By 1922, the press had proclaimed Doug and Mary the King and Queen of Hollywood and Pickfair the castle from which they reigned, so maybe it isn't surprising that they began mingling with other royalty – the European kind that came to their titles through birth. As they were entertained by high society during their trips to London, Paris and Madrid, Doug developed a habit of saying something like "And if you are in California, you must come stay with us." And so they did.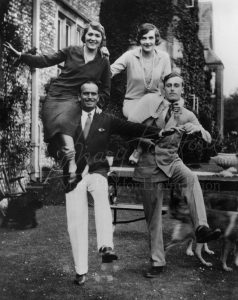 One of the first to take them up on the offer was Lord Louis Mountbatten.  Two years earlier, the marriage of Pickford and Fairbanks had caught the world's attention as throngs of fans followed them everywhere and resulted in front page newspaper coverage.
Now it was the wedding of Mountbatten on July 18, 1922 that was capturing international attention.  Christened Louis Francis Albert Victor Nicolas and called "Dickie" from an early age, Mountbatten was a great-grandson of Queen Victoria at a time when her progeny were high placed throughout Europe. And his bride, Edwina Ashely, was dubbed "the richest woman in England" due to the recent death of her maternal grandfather, the financier Ernest Cassell.
King George V, Queen Mary and many of the extended royal family were in attendance at their London wedding. The Prince of Wales served as the best man. (After they traveled together on diplomatic trips for over a year, the Prince considered Dickie his best friend.) Thousands gathered outside the church and the press followed as Dickie, just 22, and Edwina, 20, set off for a honeymoon tour of Europe. Three months later, they were still honeymooning as they boarded the Majestic for two months in America. In New York, they took in a Yankees game, posed with Babe Ruth and rode the roller coaster on Coney Island a reported nine times before slowly crossing the country. It had been publicized that they were staying at Pickfair during their week in Los Angeles, but they arrived the third week of October, just as Mary and Doug were getting to New York for the premiere of his biggest film to date, Robin Hood.
Doug had insisted the Mountbattens make themselves at home at Pickfair even if they weren't in residence. It was fully staffed and with Charlie Chaplin assigned to play host, the Fairbankses didn't really think twice about their personal priorities. It had been three years since creating United Artists and then their own studio; if they weren't hard at work making films, they were busy promoting them. Usually they traveled with Mary's mother, other family members and maybe a Fairbanks brother, but this time Mary and Doug were off on their own, training up the coast to Canada and taking several weeks for stops at Lake Louise, Banff and Montreal before heading down to New York for the October 22 premiere.  Both Doug and Mary needed the rest and the uninterrupted time together.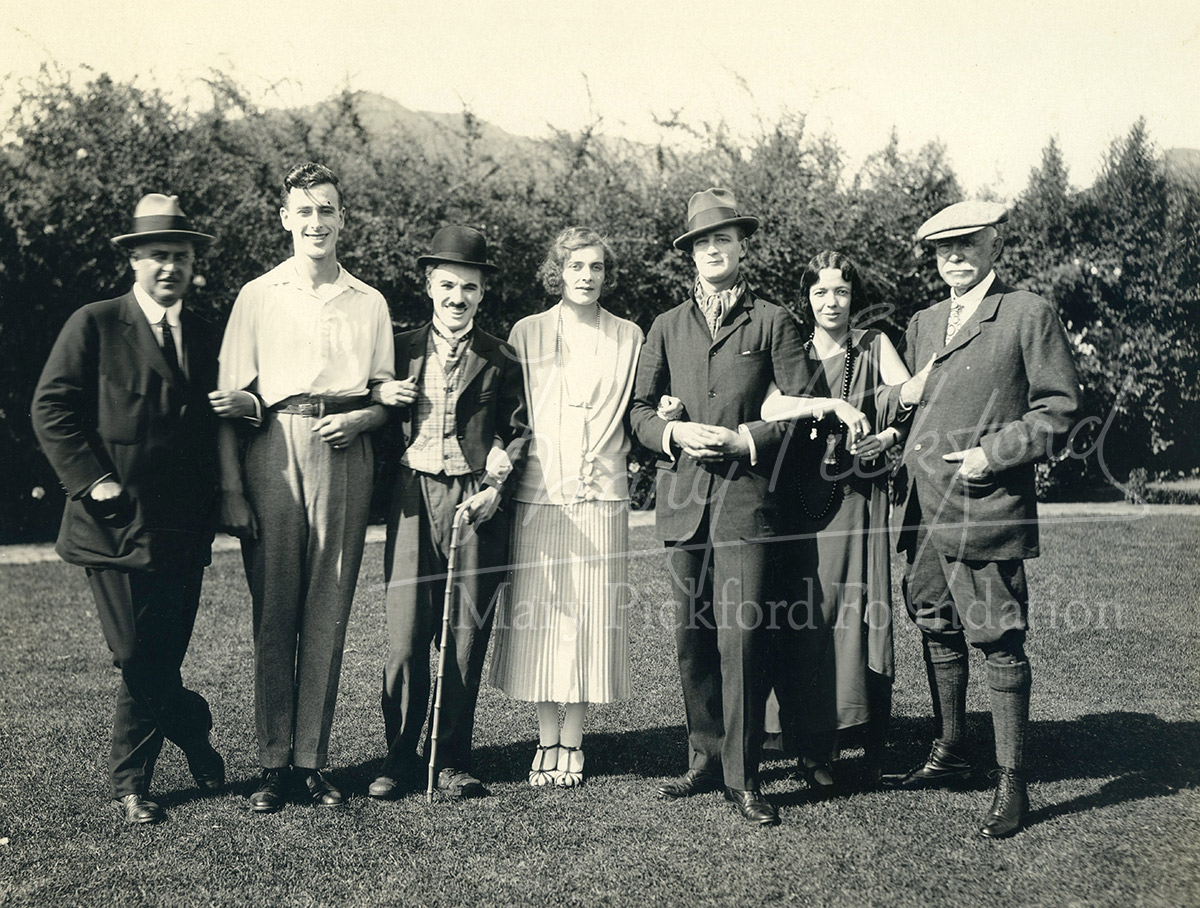 Mountbatten didn't need much convincing – he was a big movie fan. He had been infatuated since his older brother bought a projector and had already accumulated "a large library of films." He also enjoyed taking home movies.[i]  Chaplin took his hosting duties seriously and after giving them a tour of his studio on La Brea, they went over to Melrose to meet Cecil B. DeMille who showed him his sets for Adam's Rib. Newly inspired, they decided to make a film of their own and Chaplin improvised a one reeler starring Edwina as the lady in distress. The businessman Robert Thompson, who had loaned the Mountbattens his private train car to cross the country, joined them and played one of the bad guys out to steal Edwina's pearls. Charlie brought Jackie Coogan along and he played a small part as did Mountbatten's valet, Thorogood. Dickie, handsome enough to pass for a matinee idol of the day, clearly had a great time hamming it up as Edwina's worried lover. Chaplin, dressed as the Tramp, rounds up the villains and saves the day.  Entitled Nice and Friendly, it was filmed entirely on the grounds at Pickfair and then given the full studio treatment with editing and insertion of credits and title cards before being presented to the royals. One of Mountbatten's biographers claimed that Nice and Friendly, along with the film of his wedding, "remained amongst Dickie's favorite viewing pleasures" throughout his life.[ii]
After being "on" so much of the time for the past 4 months, it must have been a relief to spend a day in a protected setting with a few friends playing make believe. The day before, two reporters were invited up to Pickfair and the result was a "we are the rubes, but he was nice to us anyway" piece that was headlined "Mountbatten Likes Us" on the front page of the second section of the Los Angeles Times on October 19, 1922.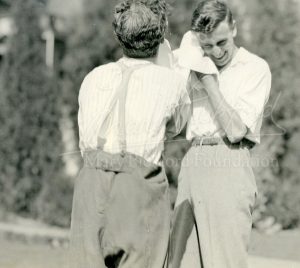 Chaplin and Mountbatten appeared to have bonded during their week together – Charlie told reporters his new friend was "such a nice, simple boy" and Dickie wrote his mother that Charlie was "the most loveable, shy and pathetic little man and yet so full of humor that he can keep one amused by the hour."[iii]
Back in New York before embarking for their return to England following two months of touring the United States, Dickie declared Hollywood and the Grand Canyon the highlights of their trip. He would later tell Kevin Brownlow "Pickfair was about – certainly, the most, best taste house, I should think in Hollywood, and run very much on English country house lines…In fact, they really kept court there. It was like Buckingham Palace in London; it was the house that everyone wanted to go to. To be asked, they would have to be more or less passed certain standards of behavior generally. Things were very proper and correct."
Mountbatten also showed his talent for diplomacy by praising a film industry very much in need of friends. In late 1922, the business was still being whipped about by scandalous headlines about Fatty Arbuckle and the murder of director William Desmond Taylor, but Mountbatten told the assembled press that he had found "no wickedness" in Hollywood and "altogether it was a delightful place."[iv] (When Fairbanks was asked about the scandals around the same time, he claimed no knowledge, explaining, "You see, we live in Beverly Hills, and that's seven miles from Hollywood."[v])
While the Mountbattens were being filmed for the newsreels, he asked if someone could send him a print in England. He carried his own movie camera as he went up the gangplank, saying he had taken "some very interesting films which would be developed in London and shown to the King and Queen."[vi]   It was a lovefest all around. (And Dickie's love of the movies was lifelong: In the early 1930s, as the officer in charge of wireless communications, Mountbatten converted silent projectors to sound on all the 70 ships of the British Mediterranean fleet.)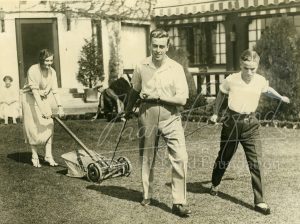 Pickford and Fairbanks were regularly mentioned in the coverage of the Mountbattens and it is doubtful they ever got so much press for NOT being somewhere. It would be another year and a half until the two couples stayed together in the same house at the same time when Doug and Mary were the Mountbatten's guests at their country estate, Adsdean.
The Mountbattens stayed in regular contact with Mary and Doug and, on several occasions, Edwina stayed at Pickfair on her own and at least once with a lover. Dickie spent much of his time at sea and Edwina liked to be entertained.  While the Fairbanks would eventually divorce over jealousy and infidelity, the Mountbattens stayed married in spite of the same until Edwina's death in 1960. According to their younger daughter, Lady Pamela Hicks, her mother "had at least 18 lovers, but my father, to my knowledge, only had one other."[vii]
One more thing the foursome had in common: none of them used their birth names. Mary had changed Smith to Pickford for its marquee value and Fairbanks had been born Douglas Ulman, but his mother had changed her and her sons' name in 1899 to purge any memory on that unhappy marriage. Mountbatten's original surname was Battenberg and even though his father had served in the British Navy since he was 14, he was forced out of service and changed his name in 1914 with the wave of anti- German sentiment with the start of World War I. (It would be another two years until the British monarchy took the name Windsor that they still use today). Only Edwina changed her name the "traditional" way – by taking her husband's through marriage.[viii]
Sources
[i]  "large library" New York Times, 11/15/1922
[ii] "remained"    Lownie, Andrew  The Mountbattens: Their Lives and LovesBlink Publishing, London 2019, pg 430. Film available for streaming at https://www.charliechaplin.com/en/films/
[iii] "such a" Los Angeles Times, 10/19/22; "the most" Lownie p 53
[iv] "wickedness… delightful" NYT 11/15/22)
[v] "You see" Goessel, Tracey  The First King of Hollywood: The Life of Douglas Fairbanks, Chicago Review Press, Chicago, 2016, p 299
[vi] "some very" NYT 12/3/22
[vii] "had at least" Telegraph 12/16/2012
[viii] Battenberg name change, NYT 9/12/21