If a true test of friendship is mutual respect, Mary Pickford and D.W. Griffith developed that early in their relationship and kept it up all their lives. Initially, he was the boss and then, when they founded United Artists together in 1919, they were partners, but whatever their circumstances, they kept the lines of communication open. In various interviews Mary conducted between 1955 and 1965, she often spoke of their unique relationship and, as this sampling bears out, they were both stubborn and opinionated, but always able to learn from each other.
In the oral history conducted for Columbia University, Mary delved into their early days of working together:
"[Mr. Griffith] was to some the great master which of course I never accepted. I respected him, I had an affection for him. but when he told me to do things I didn't believe in, I wouldn't do them….I would never object to anything of a technical nature; only when Mr. Griffith asked me to do something that made me feel foolish, like clapping my hands and saying 'Oooo, look at the sweet little birdies.'
He said, 'look at me.' I said, 'No.' He said 'I told you to look at me' and I said, "Mr. Griffith, if I look at you, I'll imitate you. And I don't want to imitate you, I want to be myself.' Oh, he was furious with me. I said 'There's enough people imitating you. I won't overact.'"
"But he taught me a lot," Mary told Kevin Brownlow when he interviewed her for his book, The Parade's Gone By. "For instance in a picture, I came in a poor little girl and I had this miserable little coat on with a moth eaten fur collar and a funny little hat with a bird on it. I threw the hat on the bed and I threw the coat down. He stopped the camera. To stop the camera in those days I think it cost 2 cents a foot.
He said 'Stop' and he walked over to the set and he always called me Pickford. He said 'You'll never do that again. You never come in and throw the hat on the bed.'… You take off your coat and you don't shake it and you don't take care of it. You know, no heroine is untidy.'
I said 'Yes, sir.'
He said 'Now Pickford, you go back and come in again. Camera!'
I thought, Mr. Griffith is right. So I went outside and came in, took my coat off and shook it, brushed the fur, fixed the little bird on my hat, put it down on the chair, and put my coat on the back of the chair.
Mr. Griffith said, 'Very good.' That's the way he would direct me."
Even after Pickford had returned to the stage and then signed with Adolph Zukor to make films, she and Griffith stayed in touch. (She said that when she told Griffith she was leaving Biograph, there were "tears were in his eyes."). The first film she made with Zukor was The Good Little Devil which Mary was the first to say "was very, very bad because we read all the lines from the play and it was dull, dreadfully slow." But then came In the Bishop's Carriage and Caprice. When she was briefly hospitalized in New York, Griffith visited her and she recounted the following conversation in the Columbia oral history:
"Mr. Griffith came in and said, 'I want to give you some good advice, Pickford. You're on the wrong track. Nobody will sit through five or six reels. It's too long.'
So I said, 'Mr. Griffith, before you make up your mind, please go and see the picture. It opens tomorrow night at 116th and Amsterdam, I think.'
So he did. It was In the Bishop's Carriage. This is what I think proved he was a very real fine man. He couldn't wait to get back to the hospital to tell me he was wrong. He was there the next morning at 9 o'clock and said, 'You were right and I was wrong. Yes they will see when pictures are produced like that, they will sit through them. I'm changing my whole mode of operation.'"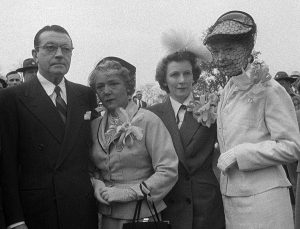 "I had an affection for him, but it didn't stop me from always questioning him," Mary told Kevin Brownlow. "We remained, until the day of his death, very good friends."
Griffith died in Hollywood in 1948 and was buried in a church grave yard near his childhood home in Crestwood, Kentucky. In 1950, Mary, along with Lillian Gish, Richard Barthlemess and Griffith's ex-wife, Evelyn Baldwin, traveled there to place the large stone marker, provided by the Directors Guild, on his grave.