Mary Pickford was always on the lookout for new material, and because of her busy schedule, squeezed that search into any down time. Frequently, when she was spending the evening washing and setting her hair, Frances Marion, who lived a few houses away, would read to her.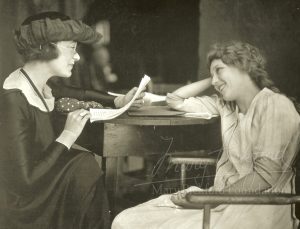 It was during one of their informal sessions that Frances read the novel The Star of the Sea by William Locke. It was the story of two, polar opposite teenage orphans: the rich, but crippled Stella Maris, "a figure of wondrous beauty," and Unity Blake, "another victim of cruel fate, deformed, but equally beautiful of soul." Stella lives in luxury, protected from the realities of the world by her titled aunt and uncle. Her reason for living becomes the handsome journalist John Risca who visits her daily and it is not until she is operated on and walks again that she learns John is "burdened by a drink-crazed wife" who is in jail for beating the orphan who worked for them, Unity Blake. Out of pity and guilt, John adopts Unity who also comes to love John. Keeping that secret to herself, Unity knows that the happiness Stella and John share will end when his wife is released, so she commits the "the ultimate act of sacrifice." Unity kills the wife and then herself, leaving John a note explaining "You was the only one as was ever kind to me. God bless you and Miss Stella Maris and make you happy."[i]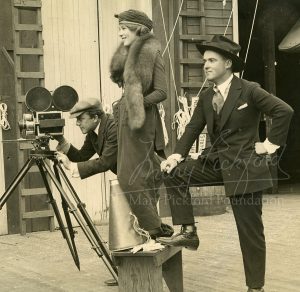 It was fairly strong, serious material and Frances was surprised when Mary announced her determination to play both characters. Mary's mother Charlotte hesitated as well, but she was always a bit concerned that another actress might try to upstage her daughter and Mary playing both Unity and Stella would moot that threat. Director Mickey Neilan and the cinematographer Walter Stradling put their heads together and worked out how it was possible for Mary to appear in both roles on the screen at the same time.
Closeting herself to dress in her Unity costume, Mary appeared with her hair dulled, darkened and greased down, a slumped shoulder and little makeup; it took even Frances a minute to recognize the pathetic little figure standing in the doorway. Mary was so thorough (and appreciated the importance of costumes in helping her immerse into a role) that she had one shoe cut down and the other elevated, so it would be natural to limp.[ii]
Adolph Zukor came to the set and "the look of dismay on the poor man's face was something to see," Mary said. "I had to pacify him that I died early in the picture."
Zukor replied, "The sooner the better!"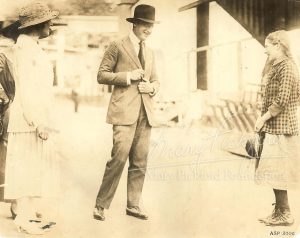 Stella Maris brought a new pinnacle of acclaim for Mary's dramatic talents, particularly for her role as Unity Blake. Mary maintained the limp and slumped shoulder along with a twisted mouth throughout all her scenes, and the fact that a beautiful actress was willing to look so plain brought unprecedented praise. "Stella Maris should prove a turning point in the history of America's favorite star," Photoplay proclaimed. "The public will never again be satisfied with plays in which Miss Pickford is not given an opportunity to act."[iii]
Mickey Neilan came in for his share of praise and Walter Stradling was celebrated for his technical achievements in the scenes where Unity and Stella share the screen. Frances Marion's name was mentioned occasionally such as when the scenario was lauded for "rising far above the novel through pure artistry of development."[iv]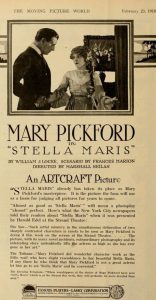 The publicity department went all out in promoting Stella Maris and theater owners received sample post cards to send customers, ideas for store tie ins and life size cardboard cut outs of Mary. It was even suggested exhibitors put a gun in the pocket of the Unity Blake mannequin and "fire it off occasionally," claiming "this caused a great sensation at the Lyceum Theater."
Alfred A. Cohn, who had written puff pieces on Mary, Doug and Mickey for Photoplay, was hired as Mary's personal publicist. Cohn prided himself in having friends in high places, such as President Wilson's personal secretary Joseph Tumulty and George Creel, the former reporter and film writer named head of the Committee of Public Information created to garner public support for America's participation in the war.
Cohn's efforts culminated in pictures of President Wilson, quoted as saying: "I have to thank you for the opportunity of witnessing Stella Maris, a production which I am sure will hearten the nation at this time of crisis. Its theme of woman's lofty ideals has an irresistible appeal and its portrayal of all phases of life must be an incentive for good and loving deeds."[v]
Even accepting that the President of the United States would allow himself to be used in publicity for a film, how murder and suicide were considered "incentive for good and loving deeds" is beyond comprehension. Still, the promotion underscored two facts: Mary's image was unassailable and everything, even Stella Maris, was being tied to the World War.
[i]."a figure of…" and other titles from film; "the ultimate act," Stella Maris press kit, AMPAS.
[ii]. Neilan, Hollywood Echos, unpublished memoir. Peterson, Frances Marion Goes Over, Motion Picture Magazine, Jan 1919 page 54.
[iii]. "the look of…" Pickford, Sunshine and Shadows, pages 241-242; Motion Picture World, Feb 9, 1918; "Stella Maris should…" Photoplay April 1918.
[iv]. Photoplay April, 1918; "rising far above.." MPW February 9, 1918, page 864
[v]. Stella Maris press kit, AMPAS. President Wilson had been quoted praising other films, including The Birth of a Nation and his interest in the industry was shown in making time to officially open a motion picture convention in New York in 1914.