Designed by women, curated by women, and built by women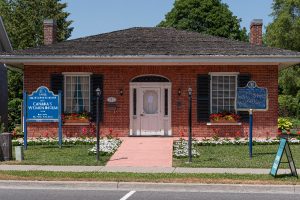 Marie Dressler was one of the great actresses of early Hollywood and her career was a true roller coaster worthy of a Hollywood script. A vaudeville sensation at the turn of the century and early teens, she starred in Mack Sennett's first feature length comedy in 1914 and was so famous three years later she joined Mary Pickford, Doug Fairbanks and Charlie Chaplin in touring the country to sell war bonds. Marie returned to New York and organized Broadway chorus girls who were overworked and underpaid, but with the coming of the Jazz Age, her style of broad comedy was out of fashion. By the mid-1920s, she was so down on her luck she considered becoming a housekeeper. Marie said that it was Frances Marion, the young woman who had been a newspaper artist when they first met in San Francisco in 1912 but by 1927 was MGM's highest paid screenwriter, who talked production chief Irving Thalberg into hiring Marie and bringing her back to Los Angeles. The result was a new career high, including an appearance opposite Garbo in Anna Christie followed by a starring role in Min and Bill for which she won the Academy Award for Best Actress. When the Depression circled the globe and hit filmmaking with a wallop in 1932, Marie was the most popular actress in town and is credited with being the reason MGM was the only studio operating in the black that year.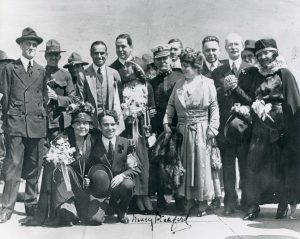 Hollywood might not be the greatest in remembering its own, but Marie's birthplace, Cobourg Ontario, has long recognized their favorite daughter. The house where she was born on November 9, 1868, has been marked as Marie's for many years, even if it was just with a sign and a few pictures on the wall. Originally built in 1833, the house had been through many incarnations including as a private home, a restaurant and offices before the Dressler Foundation entered a long-term lease for the property with the goal of turning it into a museum.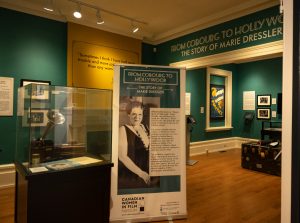 Rick Miller, President & Chair of the Marie Dressler Foundation, the non profit charity organization founded in 1990, sought out the Museum Studies Masters' Degree program project class at the University of Toronto in 2014 with the idea of creating a Dressler museum. The results were spectacular, highlighting Marie's career and packing in a remarkable amount of information in a small space.
I was privileged to be the guest speaker at their celebration of Marie Dressler's 150th birthday three years ago. I was so impressed with what had been accomplished and with the Board of Directors that came together to boost both Cobourg and Dressler. We took advantage of that time to delve into the possibility of expanding the Museum to include Pickford (born in Toronto on April 8, 1892) and Norma Shearer (born in Montreal on August 10, 1902). Not only were they all Canadian natives, the three women were back-to-back-to-back Best Actress Oscar winners in 1929, 1930 and 1931.
In 2019, Rick Miller returned to the University of Toronto's Faculty of information, Museum Studies Program to enlist five new women students to expand the museum as their Master's project. One of them, Michelle Wright, was hired as project manager.  Covid complicated their efforts of course, but they persevered and now the Pickford Gallery is complete. Norma Shearer's space will be open to the public next year.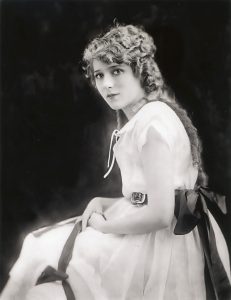 The Mary Pickford Foundation is so pleased to have become a partner in the expansion of the museum into the Canadian Women in Film Museum, supporting them with dozens of film clips, photographs, dvds and well researched historical information. Of course, much thought, many people and a lot of fundraising went into the project, but one of the key things that impressed us so much was that from the beginning the museum was designed by women, curated by women, and built by women.  The Dressler Foundation has walked the walk of bringing women into all levels of the organization — and the importance of that cannot be overstated. And by working through the University, they were able to take advantage of cutting-edge creativity and save money at the same time. Women students being taught by female professors to celebrate these amazing actresses is a win, win, win.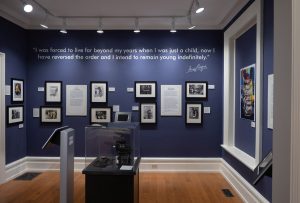 In addition, the Dressler Foundation has opened its arms to networking with organizations such as The Academy of Motion Picture Arts and Sciences who helped connect them to the Motion Picture Editors Guild in Los Angeles who provided the museum with a long term loan of a real Moviola. (The Museum is proud to note that this very editing machine made an appearance in Martin Scorsese's film The Aviator.)  AMPAS also has donated photographs through their association with the Mary Pickford Foundation. Photographs were also donated to the Mary Pickford exhibit by Rob Brooks, Chris Milewski, Marc Wanamaker of Bison Archives and Joseph M. Yranski.
When reviewing all that has gone into the creation of the Museum, the phrase that comes to mind is "It takes a village." And in this instance, it is an almost all female village and that nudges me to pay proper homage to Rick Miller. He is the personification of the warning not to judge a book by its cover. At first meeting he seems quiet and unassuming to the point one might wonder what he can accomplish. And therein lies the book cover. Yes, he is quiet and unassuming, but he is also confident in his knowledge and commitment as well as being comfortable in his own skin. He was ready to retire from his executive career in Toronto to his beloved Cobourg with his equally impressive wife, but he was not ready to stop giving and being creative. He turned his organizational and diplomatic talents to the Marie Dressler Museum and followed through to spearhead the creation of this unique experience for which we are most grateful.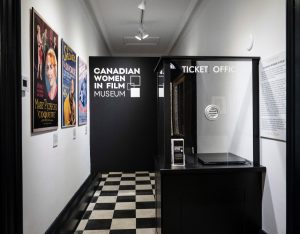 To have a physical space where these three great Canadian actresses can be honored is such an important step in sharing their stories. Mary Pickford was not only the first actress to be offered a million dollars a year, but she was also a founder of United Artists where she stayed involved as an advocate for the workers through the early 1950s, one of three women in the original group of 36 founders of The Academy and the founder of the Motion Picture Television Fund. Yet in the Academy's just opened Museum in Los Angeles the only mention of Mary is the display of her Oscar from Coquette which the Academy now owns and some rather opaque remarks about her inviting members to Pickfair to convince them to vote for her. All this adds to our appreciation of the Canadian Women in Film Museum.