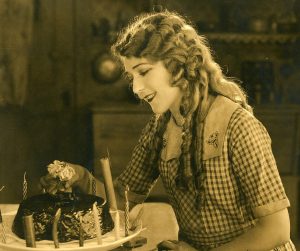 By 1925, Mary Pickford had been an international super star and "America's sweetheart" for over a decade. While still in her teens, she had played everything from waifs to married women and matrons, but she had secured her fame by portraying young girls in films such as Poor Little Rich Girl, A Little Princess and Pollyanna. In the spring of 1925, Mary was looking ahead to her 33rd birthday and wanted to play adult roles, yet her last two films, Rosita and Dorothy Vernon of Hadden Hall, had not been as successful as she hoped. And when Photoplay asked her fans what they wanted to see, the magazine reported they received over 20,000 letters begging her to play a child again. As her own producer, Mary faced those facts and looked at several possibilities, but came up with the idea of Little Annie Rooney, according to Kevin Brownlow, "while walking through empty sets of the lonely studio at night and wrote the story in two weeks." (Just as she had reviewed her family tree when she changed her name from Gladys Smith to Mary Pickford, she credited the screenplay of Little Annie Rooney to her grandmother, Catherine Hennessey.)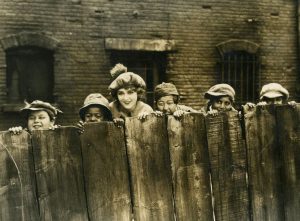 Pickford created a story that is both a comedy and a tearjerker and a role for herself as a "tomboy of the tenements" who also tends the home front for her widowed father and brother. For the families that constitute the neighborhood, Mary selected a wide ranging, multi ethnic cast that seems organic to the story even if stereotypes of the era occasionally pop up. (At the time, the Little Rascals were the rare exception to the almost exclusively white casts coming from studio films).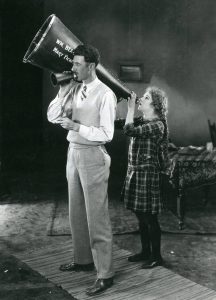 Little Annie Rooney was shot over 10 weeks entirely on a set created by art director John D. Schulze at the Pickford Fairbanks Studio on Santa Monica Blvd. One of the joys of seeing the film on the big screen is that the details of the set decoration, down to the eclectic group of used candles that adorn the birthday cake, can be appreciated. Pickford brought in the director William Beaudine; she had not worked with him before, but he had an established record as a successful director of children and comedies. And for her cinematographers, she depended upon her long time friend and colleague, Charles Rosher and Hal Mohr. In 1917, Pickford had chanced upon the effectiveness of a "baby spot" light on her face to make her look younger, and used it regularly, but it was particularly important when, at 33, she was playing a young teenager. Little Annie Rooney bears witness to Pickford's total physicality and her use of every muscle in her body to play an active youngster. She also knew that making the film in sequence, a technique that as producer she had the power to institute, helped her in developing her character.
With Little Annie Rooney, Pickford provided her fans with the film they wanted to see. As the Los Angeles Times reported when it premiered in October of 1925, "A new popular triumph goes to Mary Pickford. Her picture 'Little Annie Rooney' will be hailed far and wide as great entertainment. It is the most amusing comedy she has made in ages, and marks her return to the hoyden type of role in which she has always won the height of favor."