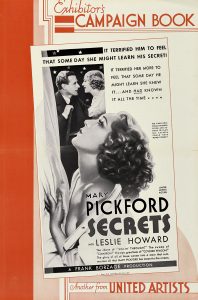 For some companies, pressbooks were a nice addition to their film promotion plans. For United Artists, they were a necessity. Because UA was distributing its pictures individually, the pressure was on. No matter how successful their films were, they had only a few stars and no block booking or a proven slate of pictures. They needed a route to get their films into theaters and that was not easy, particularly in the beginning.
Almost every other filmmaking company was ahead of them. First National had begun as a theater circuit so they had built in distribution.  When MGM formed in 1924, they depended upon their parent company, Loews, to provide the theaters. Paramount had their own theaters (so many in fact that when the Depression hit, real estate collapsed and so did the value of their company).
United Artists needed to create and then build up their relationship with theater owners. Because of the limited number of films they distributed, each was treated as a special release and pressbooks were the vehicles by which they explained – to the theater owners and the potential audience – why a UA film was worth their money.
UA Pressbooks were packed with promotions that spoon fed the local exhibitor; stories of behind the scenes activities, spotlights on featured players and pseudo-intimate interviews with the stars (In the case of Taming of the Shrew, a make believe conversation between Doug, Mary and William Shakespeare). Ads were even laid out based on column inches from maybe 1 column inch across and down to form a square, but others with ornate professional drawings of a smiling Mary could be 3 inches across. All that was left for the theater to do was put their name on it and deliver it to the newspaper. Pressbooks became more elaborate over the years and included suggestions for ways music stores, drug stores or even train stations could be involved in promoting films.
Below are the pressbooks created for Pickford's United Artist films and to see all the UA pressbooks from 1919 to 1952 scanned by the Media History Digital Library and the Wisconsin Center for Film and Theater Research, click here.