In the summer of 1935, Mary was repositioning her public persona. Doug wasn't in residence anymore and their divorce was in process, but she was determined to hold her head high and be as engaged in the business as ever. She was occupied with United Artists, writing books and forming a joint production company with Jesse Lasky.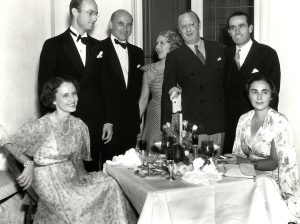 In the midst of all this, Mary was approached by John Hay "Jock" Whitney, to help establish The Museum of Modern Art's Film Library. The multimillionaire Whitney was a MoMA trustee whose family lineage went back to the Mayflower and was laced with Vanderbilts and Harrimans. He also had his hand in Hollywood as one of the initial investors in Technicolor and he was about to become Chairman of the Board (and the major funder) of the new Selznick International Pictures. David O. Selznick in turn had been spending time at Pickfair that summer negotiating his own partnership in United Artists. With everyone wanting to please everyone else, Mary was happy to discuss hosting a dinner party (with Whitney picking up the tab) to inspire donors to the new MoMA Film Library. However, at the moment she was on her way to New York and the plans would have to wait until her return in early August.
As the stock market crashed in late 1929, it was hardly an auspicious time to start a museum, let alone one as grand and sweeping in its mission as The Museum of Modern Art. Beginning in two rooms at 57th and Fifth Ave in a building that had been an orphanage, MoMA soon moved to a brownstone on 53rd where, according to Iris Barry, paintings by Picasso and Cezanne were shown in America for the first time.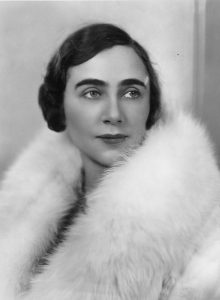 Barry would have known as she had only recently arrived from  London where she had mingled with the Bloomsbury crowd while co-founding the London Film Society and serving as the film critic for The Spectator.  Born Iris Symes in Birmingham in 1895, Barry showed an early propensity for self-invention when she renamed herself after her maternal grandmother. Iris looked the part of the proper matron, but before marrying (and then divorcing) the poet Alan Porter, she had two children with the writer Wyndham Lewis.  The story went that she was ingloriously fired from The Spectator when she slammed a film based on an Elinor Glyn story after Barry's boss had promised Glyn a rave. Barry left her children in England and came to New York to start anew; after looking around, she made a trip to Hollywood, and was up front with friends and colleagues about her need to work.
Barry met Alfred Barr, the first director of MoMA, at one of the many New York parties she frequented and he was intrigued by her history with movies. He envisioned developing a permanent collection of films to be screened at schools and educational institutions and having films appreciated as an important facet of modern art. And he saw Barry as the woman who could make that happen.
After Iris married the reportedly dull but wealthy stockbroker John "Dick" Abbott who was six years her junior, Barr asked her and her new husband, who decided he liked movies much better than Wall Street, to write a funding proposal to the Rockefeller Foundation; they in turn were sufficiently impressed by the idea of a MoMA film library to give them $100,000, almost 2 million in 2021 dollars. (There had been college courses on film before. Douglas Fairbanks had helped create one at USC, Joe Kennedy had organized a series of symposia at Harvard in 1927 and their Fogg Museum had even started to collect films until the funding fell through.)
Barr named Abbott director of the Film Library and Barry its librarian, but, as Iris pithily asked, "what is a film library without films?"  They talked to a few people on the east coast where some films were still being made, but most of the business had moved to Los Angeles. [i]
Barry and Abbott knew they needed to head west as well and when they arrived in Hollywood in mid July 1935, they ensconced themselves at the Garden of Allah Hotel. Iris kept Barr informed of their activities by letter and justified her trip (and their almost two month stay) by saying, with more than a trace of condescension, "As it turns out, it was a very good thing we did come, as we should certainly not have secured a single film from any of the people here otherwise. I had forgotten what a long way Hollywood is from New York: they read different papers, have different values. We have had to start in one way from the beginning and do a lot of educational and promotional work before our aims and objectives were at all clear to anyone here. And it is all slow work anyhow with so many different people to see, and see just right – there are hierarchies indeed and it is easy to make false steps and see the wrong people first. Also the jealousies….I hope we bring it all off properly." [ii]
At first, they approached filmmakers and studio heads one by one but met with little success. Every morning Louis B. Mayer's secretary called to tell them he wished he could meet with them, but his schedule did not allow it. Maybe tomorrow….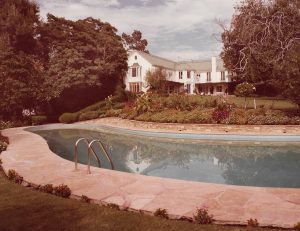 Barry realized that to "bring it all off properly" she had to aim higher – and that meant introducing their film library to Hollywood with a dinner party at the most impressive venue in town, Pickfair. With that event as the cornerstone of their crusade, everything else started to fall into place. Iris was pleased to report that "I think Mary Pickford will give us 75 of her pictures…but what is more important is that she herself will launch a big 'give these people your best old films' campaign." Barry understood success would only come with "personal persuasion of many key people" and Pickfair was the place to accomplish that. [iii]
On the evening of August 24, more than 70 industry leaders gathered at Pickfair with a guest list that emphasized producers rather than actors. After all, they were the ones who owned the films that MoMA wanted. It was a warm evening and almost in spite of herself, Iris was impressed with the hostess and her home. Dinner tables decorated with flowers, candles and linen cloths were set out around the veranda that encircled the house allowing guests to appreciate the wide lawn bathed in lights while an orchestra performed. Walter Wanger, Harold Lloyd, Jesse Lasky, Sam Goldwyn and his wife Frances, Mack Sennett, Colonel Selig, Walt Disney and Mrs. Thomas Ince were all in attendance and Iris was struck by how many of these famous people commented on how long it had been since they had seen each other. Upon reflection, she realized that "they work long hours during films, go out little and once the film is finished, they rush away for a holiday." [iv]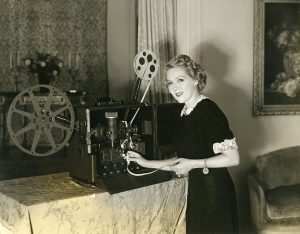 After dinner, the guests convened inside to watch films reaching back to The Kiss from 1896 and Mary Pickford's final Biograph from 1912, The New York Hat, costarring Lionel Barrymore and written by Anita Loos. But it was the appearance of Louis Wolheim, who had recently passed away, in a clip from All Quiet on the Western Front, that seemed to truly touch the audience. He was gone, but he was still with them. That was the power of films – it was their chance for immortality and the emotion that swept through the room was something they seldom paused to appreciate. In fact, they rarely paused to focus on anything beyond their current production. The response to seeing their early work and colleagues who were no longer with them united them as a community.
Mary welcomed everyone with a sincere plug for the library and then Abbott was followed by Barry; they quickly knew they had hit a nerve. Iris thanked the hostess and told the story of Mary suggesting she might get rid of her earlier films, but then realizing from the overwhelming response she received, they were not really her films at all. They belonged to the world. Whether she had actually made such a grandiose statement, it reminded the powers that be that their work was valued for more than its box office and they wanted to be a part of that.
The Los Angeles Times reported that Barry left Hollywood with "more than a million feet of film from her newly-won donors," but, in reality, she left with promises that films would be delivered eventually. While Louis B. Mayer never did follow through with a meeting, it was MGM's corporate attorney, Robert Rubin, who wrote the template contract for "governing the Film Library's acquisition and use of films" that other donors used. [v]
In retrospect, MoMA's timing was most fortuitous. They were able to sweep up the silent films from what was now considered financially useless. Studios soon needed to clean out their vaults to make room for new material so why not just pass them on to the museum? It was assumed that all these films were permanently out of distribution and if by chance they ever did want them again, they would know where they were.
Within months, the floodgates opened and producers such as Walt Disney, Harold Lloyd and Sam Goldwyn contributed some of their films.  Studios gave in bulk as well with Universal donating Lois Weber's The Dumb Girl of Portici starring Anna Pavlova and several directed by von Stroheim. Paramount gave the first film Adolph Zukor had bought and promoted, Queen Elizabeth starring Sarah Bernhardt.Lillian Gish was an early supporter and Iris asked her to persuade D.W. Griffith to donate his films. Gish said she was eventually successful because he "could not afford to continue to pay the storage costs for housing his collection [so] the museum received an extensive array of the filmmaker's negatives, prints and parts including 325 of his films." Lillian was a life long supporter and left a substantial portion of her own estate to MoMA for the care and preservation of Griffith's films. [vi]
MoMA quickly made use of their new collection; in February of 1936, over 400 people packed a New York theater to see Pickford in The New York Hat, along with films starring Theda Bara, Ben Turpin and William S. Hart. Each screening brought more publicity and positive reinforcement for the new Film Department. [vii]
When the Museum of Modern Art officially opened on May 11, 1939, the celebration included a series of thirty programs of films, running through early October. They featured some of the finest of the silent era: Garbo, Gish, Pickford alongside Douglas Fairbanks who had donated his films only weeks before. It would not be until the end of 1939 that the film department itself was able to move into their spacious new offices and thirty years later, Iris remembered the space, the projection room and the large theater all right down the hall as her greatest joy. Barry stayed with MoMA until she retired in 1951; she died in France in 1969. [viii]
And in Barry's frequent retelling of the founding of the library, she credited Pickford front and center. For instance, in a 1940s article Iris wrote of our "considerable amazement-in Hollywood about to entertain an alarmingly brilliant concourse of filmdom's greats at Pickfair. Certainly, the gracious gesture of Mary Pickford in thus throwing open her famous house and herself acting as hostess could alone have afforded the infant Film Library so excellent an opportunity of putting its case before aggregate film chiefs and, through the press which reported the somewhat unusual event, a wider circle of film employees and the public." [ix]
Mary Pickford's films have been featured at MoMA many times over the years including a series alongside Soviet films in 1969 and a tribute consisting of two dozen of her movies in the summer of 1979. Several of her films were also showcased in a 1998 program honoring her friend and screenwriter Frances Marion. [x] 
And the relationship between the museum and Mary Pickford continues to this day with MoMA continuing to screen her films and take an active role in preserving some. As pleased as all this might make Mary today, in the summer of 1935 she was happy to be front and center as an advocate for the importance of film and to have re-established Pickfair as THE pinnacle of influence in the industry, a preeminence that would be reinforced many more times over the years.
[i] "what is" Barry to Barr, 8|27|1935, MoMA
[ii] "as it turns" Barry to Barr, 7/22/35, MoMA
[iii] "I think" Barry to Barr, 7/22/35, MoMA
[iv] "they work" unpublished article by Barry in 1936, her MoMA papers
[v] "more than" quoted in Film Quarterly, Summer 1969 p 23.
[vi] (NYT 11/24/35)
[vii] (NYT 2/5/36)
[viii] (4/30/39 NYT)
[ix] Barry, Bulletin of the Museum of Modern Art, Jun-July 1941
[x] NYT 3/22/69; NYT 6/15/79.