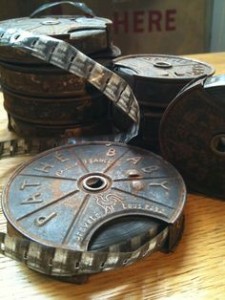 Considering it is estimated that at least seventy-five percent of all silent films are "lost" – meaning they are gone because they were stored improperly, dumped in the ocean or melted down to be sold for the silver in the nitrate – we are fortunate that so many of Mary Pickford's films survive. However, there is one of her "lost" films – A Girl of Yesterday from 1915 – that is particularly missed because there were so many things about it that made it special.
In A Girl of Yesterday, Mary plays Jane Stuart, a sweet old-fashioned girl who suddenly inherits wealth. While she tries to retain her traditional ways and wardrobe, her brother (played by Mary's brother Jack) likes the attention that is now being paid to them by people who previously shunned them. Frances Marion, who was writing scenarios but went along with Mary's urging her to act, plays "the wicked sophisticate" Rosanna Danforth. Marion's character has her eye on Mary's beau, played by Mickey Neilan, a friend of Jack Pickford's who had been working in films for several years, but wanted to direct. (Many filmographies credit Mary with writing the story, but in his memoirs, Mickey Neilan claims that Frances wrote it.) [i]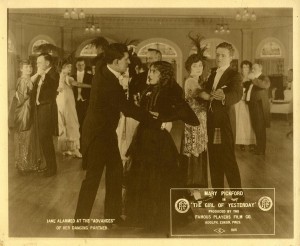 The experienced Allan Dwan, who had worked with Flying A in Santa Barbara and Universal before joining Famous Players-Lasky in 1913, was assigned to direct after James Kirkwood, who had directed over half a dozen of Mary's previous films, returned to the East Coast. For a while during the filming, Dwan and Neilan, who had worked with each other before, both lived at the Los Angeles Athletic Club, a men's only establishment that featured a steam room, a swimming pool and of course, a well-stocked bar. Jack Pickford was a frequent guest. [ii]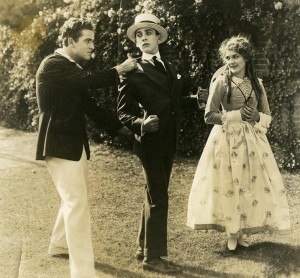 All those close inner connections simmering in the cast and crew could have wreaked havoc, but everyone involved seemed to enjoy each other and Dwan was secure enough in his own abilities to include others in the creative process. The sense of community the company shared extended to Dwan inviting everyone to his wedding to the actress Pauline Bush in San Juan Capistrano during a weekend break from filming. Inspired by the church mission and in a burst of regret for the secret and secular surroundings of her own wedding, Mary and Owen asked the priest to renew their vows in a Catholic ceremony. The service struck Frances as half-hearted at best. She knew how little time they spent together and had seen too much of Owen's behavior and Mary's unhappiness to put any faith in a ritual. Yet she also understood how much Mary wanted to make her marriage work, even if the odds seemed against it. [iii] (The Bush Dwan marriage only lasted until 1919.)
The plot of A Girl of Yesterday included a scene where Mary is kidnapped and taken away by airplane that was to be filmed in Griffith Park. Three years earlier, Mabel Normand had starred in A Dash Through the Clouds where she had actually flown a plane, but just the thought of her daughter being in a plane was enough to horrify Charlotte Pickford. The fact that Mary was to fly was promoted in a spate of news articles for several months in advance and proclamations such as Variety's –"Pickford Taking Chances" – didn't help to soothe Charlotte's concerns.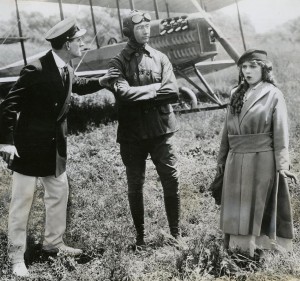 Of course, on the day of the flight, reporters flocked to Griffith Park to bear witness. In his book, Allan Dwan and the Rise and Decline of the Hollywood Studios, Frederic Lombardi tells the story of Famous Players manager Al Kaufman dressing in drag, complete with blonde ringlet wig, to try to fool them while appeasing Charlotte, but the reporters were kept so far away they could not get any pictures. When they voiced their suspicions, Mary stepped forward to be bound and gagged as the script called for and she was placed in the small, four-seater plane. Reports vary on Charlotte's demands on the limit of how far it would go above the ground – 10 feet, 100 feet or 500 feet. Dwan, who knew enough to know that higher was actually safer, also knew not to go up against Charlotte and assured her the plane would not go over 100 feet. He later told Peter Bogdanovich that "I had kept my word to Mary's mother. She was never over 100 feet." Needless to say, everyone survived, the photographers got their pictures and the next day, the Los Angeles Times headlined, "While Her Frantic Mother Waited on the Ground, the Moving Picture Star Soared." [iv]
Mary's pilot was a local aviator, Glenn Martin, who would go on to found a pioneering airplane company and create the Martin bomber. Flying a plane was an everyday occurrence to Martin, but he balked at being in the film when he was told his role called for him to kiss a girl because "My mother wouldn't like it." The story goes that Adolph Zukor himself had to come to Griffith Park for Martin to eventually agree to give Frances a slight peck on the cheek. (Martin never did marry and lived with his mother until her death.) [v]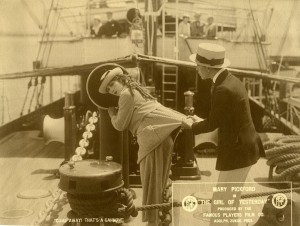 With the angst and drama of the Griffith Park scenes behind them, the company was free to enjoy themselves at other locations such as a day on a golf course. They were also treated to several days of shooting on the multimillion dollar yacht of John D. Spreckels, the wealthy "Sugar King." [vi] They cruised around Catalina Island, which would serve as a key location spot in hundreds of films, often passing as the South Seas in films such as Mutiny on the Bounty and Gloria Swanson's Sadie Thompson.
In part it is the thought of seeing all these locations circa 1915 that makes the loss of A Girl of Yesterday such a heartbreak for film fans. Of course it would also be great fun to see Jack Pickford, Mary Pickford, Mickey Neilan and Frances Marion all together on the screen, knowing as we do that Mary, Mickey and Frances would work together often in the years ahead and be lifelong friends.
"Lost" films are still being discovered – often in Australia or South America because they were among the last stops in distribution. Why bother paying to return them at a time when films were viewed as something not worth saving? Occasionally reels are found in European and other international archives, stashed on shelves, often renamed or misnamed and therefore a challenge to identify. So hope springs eternal that A Girl of Yesterday may yet emerge.
NOTES
[i] Mickey Neilan on film writing credit, Hollywood Echo's dated Sept 4, 1958, p 210
[ii] Allan Dwan was initially intrigued with motion pictures in 1909 when he invented and installed studio lighting for the Essanay Company in Chicago. Mickey Neilan also writes extensively about his time at the Athletic Club in Hollywood Echos. Dwan staying there, Lombardi, p 39.
[iii] Dwan/Bush wedding, FM to Booton Herndon
[iv] "While her…" Los Angeles Times, May 25, 1915
[v] "my mother" Frances Marion, Hollywood page 62-63; Martin, his accomplishments and his mother, NYT, 12/5/1955
[vi] Spreckels yacht, Motion Picture World, October 9, 1915