When Mary Pickford returned to New York from California in April of 1910, she was glad to see her family, but even happier to be reunited with Owen Moore. She had been taken with him since her first week at Biograph when Griffith called him over to rehearse a love scene with her. While Mary had seen more than most people twice her age, she had lived a very sheltered and disciplined life and nothing had prepared her for that first time an experienced man put his arm around her. The physical sensations she felt were entirely new to her and she was literally swept off her feet. About five foot, ten inches, with deep blue eyes and dark hair slicked straight back, Owen struck some people as almost too handsome. Mack Sennett called him "the best dressed man at Biograph."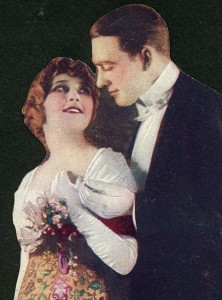 Mary thought she was keeping her feelings to herself, but soon old Biograph hands began warning her about Owen's womanizing and drinking. He was seven years older than the just seventeen-year-old Mary. Born in Ireland, he had immigrated with his family as a child, along with his three brothers who also worked in films. At first, Charlotte welcomed Owen into their home, but when she thought the relationship was getting too serious, she told Mary to stop seeing him. Charlotte didn't trust him, was nervous about Mary having any commitments beyond her work and immediate family and, along with the other strikes against him, he was "a five-dollar-a-day actor." Mary had always done everything her mother asked, but now she began sneaking away to see Owen and was pulled between her enduring and deep loyalty to her family and what she considered real love. Maybe her mother would be happier if she brought in more money?
Mary had always felt the burden and responsibility of being the primary financial supporter for her family. Now, in seeking an increase in salary, she was about to become a highly paid pawn in the battle to break "The Trust," the name commonly applied to the Motion Picture Patents company that claimed exclusive patents on cameras, projectors, lab equipment and even the film, down to the sprocket holes. Edison, Biograph and a handful of other companies were under the Trust umbrella and any exhibiters showing films made by non-Trust companies were threatened with having their supply cut off. The Trust had distributing offices throughout the country so their reach was wide and their power readily enforced. But the demand for product had skyrocketed as theaters quadrupled in number and piracy thrived.
Independent producers brought in cameras from Europe and bought film on the black market to make their movies. Carl Laemmle was a theater owner suffering from the shortage of films when he formed his Independent Motion Picture Company (IMP) in open defiance of the Trust. He methodically nabbed a star a Trust company had developed – Florence Lawrence – and then in late 1910, offered Mary Pickford, the current "Biograph Girl," $175 a week. Trust companies were forbidden to steal each other's talent; if they did, they could be brought before a meeting of the board and be heavily fined. While Independents had no such restrictions, they did have to come up with serious cash to lure someone like Pickford because talent faced the potential of being blacklisted by Trust companies in the future.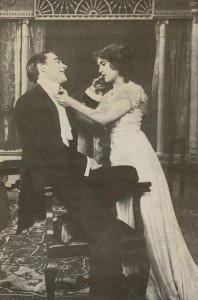 Still, almost doubling her salary was too tempting for Mary to resist. IMP would also hire Charlotte, Lottie and Jack at base wages for bit parts. Charlotte must have been pleased, but what Mary hadn't mentioned was that Owen Moore was already at IMP. Some reports say he had quit because he was irritated at being left in New York while so many from the company went to California and others say he was fired from Biograph, but Owen had been working at IMP for several months and seeing Mary in secret. Now he threatened to leave her and IMP if she didn't marry him. Did he sense her star might be rising beyond his grasp or did he see marriage as the only way to get Mary away from her family? All Mary was sure of was that she didn't want to let him go, so in January of 1911, dressed in a gown borrowed from the Biograph wardrobe department, she trekked to the Jersey City court house to marry Owen. She was willing to go through with the ceremony, but not to tell her family. As soon as the paperwork was signed, she took her ring from her finger, put it on a string around her neck and returned home where she shared a bed with Lottie. She told no one of marriage for the next several months, but later claimed all the while she was riddled with "bitter self reproach," feeling "like the biggest sinner that had ever lived."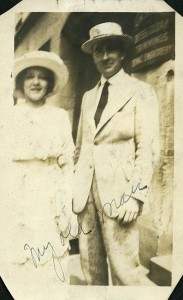 Mary and Owen made a few films for IMP in New Jersey – their first together was ironically entitled Their First Misunderstanding – but the Trust's vigilantes were everywhere and many independents were setting up shop in California and Florida. Laemmle decided to go a step further and packed up most of the IMP company and sent them to Havana. Almost as a taunt to the Trust, he didn't keep their evacuation a secret; newspapers headlined articles with "The IMP Company Invades Cuba." But one secret that was still being kept was Mary's marriage to Owen as the couple, along with Charlotte, Lottie and Jack all boarded the boat. How Mary thought she was going to continue to juggle her personal and professional life is almost unimaginable, but in retrospect she said, "What was to be a long delayed honeymoon was more like a funeral."
They were only a day out of New York when Charlotte walked in to a cabin to find Mary alone with Owen. Charlotte was outraged, and when Mary finally admitted they were married, it didn't improve matters. Charlotte reportedly demanded the boat return to New York, but to no avail. The rest of the voyage was punctuated with sobs by all concerned and when they arrived in Havana, Owen took off for what would be a three-day bender. And it didn't get any better once the cameras started rolling.