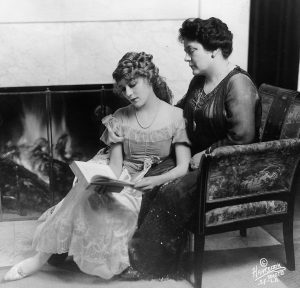 Charlotte Hennessey was born in Toronto on January 1, 1873. Her parents had emigrated from Ireland and before her twentieth birthday she married John Smith, a good looking man only a few years her senior. But John never made much money or much of himself before he died in early 1898, leaving Charlotte with three young children to raise on her own. She took in boarders, laundry, sewing and whatever was necessary to support the family before her eldest daughter Gladys found work on the stage. Once that daughter became Mary Pickford, courtesy of a starring role on Broadway for producer David Belasco, Charlotte changed her name and that of her younger two children to Pickford as well.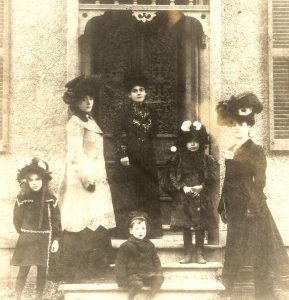 That faith in Mary and her commitment to her never wavered, but Charlotte was never a stereotypical "stage mother." Mary's future director and friend, Marshall Neilan, bristled when that appellation was used for Charlotte. "This would never apply to her in any way. She possesses the natural mothering instinct to protect her own…. Other directors that had worked with Mary had told how some girls had showed up during the casting of a picture with hair do's exactly like the famous Pickford golden girl hair do – one look at the imitation and Charlotte's battle cry would ring out and this outraged Mrs. Pickford would be in action carrying this fight to whoever the higher ups might be."
Mickey also remembered that "mothering instinct" in action from the earliest days at Biograph. "Griffith knew women and he knew how to play one against the other….Charlotte Pickford saw through that like a pane of glass. Griffith could take a different girl dancing every night whispering much of this kind of hooky in their ears that they love to hear, but he never could get Mary out alone as Charlotte always managed to make it plain that she would have to go along."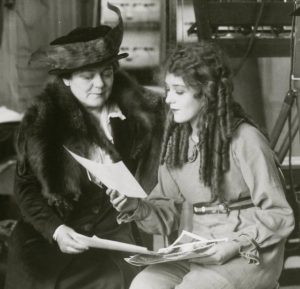 Charlotte also was the hard headed manager who was always at Mary's side when it was time to talk about contracts, allowing Mary to demur into the role of always being the pleasant one. As Mary put it, "Mother always talked terms." Adolph Zukor knew that first hand, negotiating several contracts with them, at one point claiming, "Mary, sweetheart, I don't have to diet. Every time I talk over a new contract with you and your mother, I love ten pounds." Charlotte also served as her agent, making trips to New York to buy rights to stories they judged right for Mary. And Charlotte was the one to invest Mary's growing income. In the late teens, when they moved to Los Angeles for good, Charlotte perused the still developing landscape and decided it was best to buy land, but not houses. They continued to rent while Charlotte's portfolio of holdings grew. The poverty of their earlier years influenced every decision Charlotte made and she made all the financial decisions.
While Charlotte stayed in the background, her reputation for being an astute operator was known within the filmmaking community. Raoul Walsh called her "the smartest woman in the motion-picture industry" and credited her with being "the first agent to make Hollywood producers tear their hair." And he wasn't alone. When Joe Kennedy sponsored a series of seminars on film at Harvard, Gloria Swanson chided him for not having a woman speak and they agreed that Charlotte Pickford would have been logical choice. Amongst her other talents, she was known to step into a theater and size up the box office in seconds.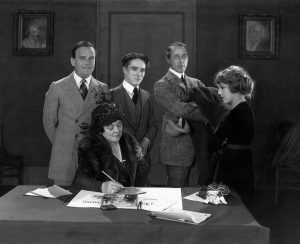 Charlotte was always at Mary's side making business decisions, but was careful when it came to giving personal advice. Mary had married Owen Moore in secret and Charlotte realized that her strictness may have been behind her daughter's actions. When it came to Mary's affair with Doug Fairbanks, Charlotte was often there as a public chaperone, particularly when they traveled the country selling war bonds. It wasn't that Charlotte approved, but she had seen the misery Owen had caused Mary and wanted her happy. As Frances Marion put it, "The main thing was that 'Mama' loved Mary to be happy and Mary was never lovelier than when she was with Doug. That was enough 'Mama.'" Charlotte went with Mary to Nevada when she divorced Owen Moore and was there a few weeks later when Mary married Doug.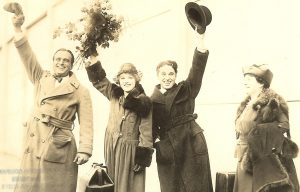 While Charlotte often traveled with Mary and Doug, and went as far as New York to see them off on their European honeymoon, she kept her distance when they were all at home in Los Angeles. Once United Artists was formed, there were no more producers to negotiate with. However, she was often at board meetings or in conference with attorneys and still had a say in the films Mary made. The story is often told that Charlotte was the one who refused to have Mary star in Faust for Ernst Lubitsch. Mary always valued her counsel and her mother dined at Pickfair once or twice a week, but Charlotte had her own network of friends. According to Mickey Neilan, she had suitors that she enjoyed, but none she ever took very seriously. Ill health haunted her beginning in the early 1920s and after several operations, she refused to go through anymore when she was diagnosed with breast cancer in the mid-twenties. Mary moved in with her mother at her Santa Monica beach house for the last few months of her life and was there when Charlotte died on March 22, 1928.