How Mickey Neilan came to direct Mary Pickford
…according to Mickey Neilan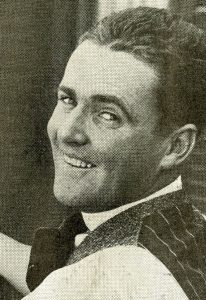 Marshall "Mickey" Neilan appeared as an actor in A Girl of Yesterday and Madame Butterfly (1915) with Mary before becoming her director and a dear, lifelong friend. There are a variety of stories about how Neilan began working in movies, including that he had started by being Griffith's driver, but from the early teens he was learning from Griffith and then joined up with Allan Dwan who called Neilan "a handsome and poetic kind of guy- very romantic." Colleen Moore among others considered him a genius. But he could also frustrate even his closest friends with his binges, partying ways, and lack of any deference to authority. Blanche Sweet, who was married to Neilan for several years and worked with him on many films said, "He could wrap Mary Pickford around his finger. He would disappear sometimes, and maybe wouldn't come in for a couple of hours, but let me tell you something; when he got to work, he made up for lost time."
Neilan's outlook on life and work, as well as his joie de vivre, are on full display in his story of directing Mary Pickford films.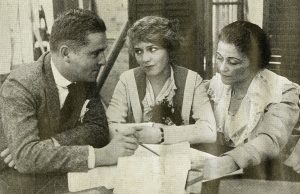 A rumor filtered through the Lasky studio grapevine. Mary Pickford had made two pictures directed by C.B. DeMille. In New York Adolph Zukor, the real boss, had resented these pictures because in one of the pictures they had given Mary a grown-up young lady's hairdo eliminating her famous Pickford shoulder-length curls. "Take away Mary's curls" said A.Z. , "and you take away her trademark." On this subject Zukor was rabid. He knew Mary's following and knew from experience what Mary's customers wanted and demanded from America's Sweetheart. Anyway, reverting back to the studio gossip, Mary and the studio brass were trying to decide on a choice of director for Mary and apparently it was a toss-up between Robert Leonard and myself. Leonard had just finished a picture with Mae Murray (with curls) and had made several at Universal with Ella Hall, another curl proposition. Up to this point my actresses had all been shorn of curls so my possible chances of directing our Mary seemed slim as the big shots figured I was not a curl director. While this momentous decision was on the fire, my phone rang in my room at the Athletic Club where I made my home and the voice was my friend Jack Pickford. "What in hell do you want at this hour?" I shouted. "Oh nothing, you big louse – just wanted to tell you that in the morning you will find out you're going to direct my sister Mary. So go to hell!"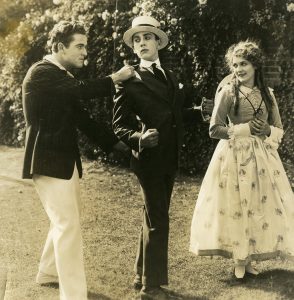 All a director had to do was make one picture with Mary and his position in the film business was more than assured. Sure enough, when I arrived at the studio next morning everyone started congratulating me so Mary, Frances Marion, her best friend and writer, [and I] started preparing our first picture together which was Rebecca of Sunnybrook Farm. We three all of Irish descent spoke the same language and between fighting and making up, we turned out one of Mary's most successful pictures financially and otherwise. Our leading man was another Irishman, Eugene O'Brien, most popular at the time and a prince of a chap. One day in a scene O'Brien was supposed to peek through a hole in a fence and watch Mary and her kid companion putting on their version of a circus. He was supposed to get a big kick out of what he saw and give with hearty laughter in a close-up, but for some reason known only to actors Mr. O'Brien's laughter was distinctly on the phony side and not in the least convincing. After about four unsatisfactory takes I gave up and sent the company to lunch. I drove O'Brien to a gin mill and shot a couple of high balls into him hoping to limber him up (an old trick of the master D.W. Griffith).
Back in the studio on my way to the set I ran into a young actor who was visiting the studio. "You're just the fellow I'm looking for," I exclaimed. "I've got an actor here I can't get to laugh – now you go around back of the set and on my signal when he peeks through the knot hole in the fence, do your stuff." He did and O'Brien is still laughing I guess. My actor friend was no other than Charles Spencer Chaplin, who lived in the next room to me at the Athletic Club. Later I had Charley send a bill to the Lasky Company for one hour's work. Amount $2000. Milt Hoffman the studio manager damned near dropped dead with shock. Until we explained it was all a joke.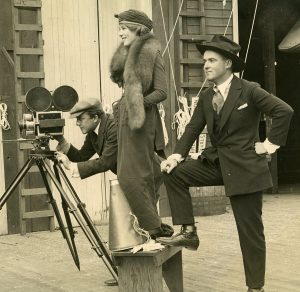 We followed Rebecca with Amarilly of Clothes-Line Alley and scored another hit. Now we were studio pets and I'm sorry to confess we began to think we were pretty good. The Little Princess, Stella Maris we turned out in succession. …. Mary, Frances and I thought that we would like to have D.W. Griffith see this one so Mary invited D.W. and Lillian Gish and Blanche Sweet to a private showing. When it was over we waited breathlessly for the great master to give us the expected pat on the backs but he calmly lighted a cigarette saying, "I'm damn hungry – anyone want a hamburger with onions?" We could have murdered him right then. Mary was too mad to cry so she ducked home. Next Lillian told Blanche Sweet that Griffith on the way to his car said, "Those damn smart aleck kids… making a great picture like that… what's this damn business coming to anyway? I'd better watch to my laurels." Of course this confession bolstered up our morale and we went to our next picture together – that turned out to be our last together on the old Lasky lot.
This version of events is from the draft of Mickey Neilan's unpublished memoirs, entitled Hollywood Echo's, written in 1955. By the time Mickey got his long time wish to direct Mary in 1917, she was in the position to name her own writer and director, hence the choice of Frances as writer and Mickey as director. At the time, all of them were under 30 years of age.
– Cari Beauchamp