Frances Cranmer Greenman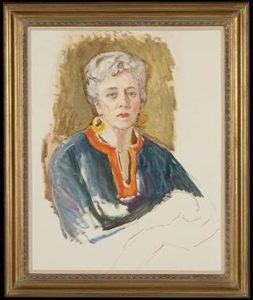 Frances Cranmer Greenman was a popular American portrait painter from the early 1920s through the 1970s. Born in a North Dakota log cabin in 1890, she would later claim to have worked out of 22 studios over her lifetime. The only child of a Suffragette and the only Democrat within a 100 miles, the family eventually settled in Minneapolis. By the time she was 21, Frances had been to half a dozen colleges and art schools and studied in Boston, New York, Washington D.C and Paris. She married, had two daughters and was busy painting the literati and social leaders of New York when the crash of 1929 hit. With her banker husband unemployed, Frances packed up her paints and canvases and traversed the country, finding enough still wealthy patrons to support the family.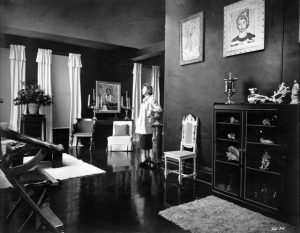 Frances traveled frequently for work, but she didn't come to Los Angeles until October of 1934 when she was invited to exhibit her work at the Stendahl Gallery next to Bullocks on Wilshire, then the largest and most sophisticated store in the city. She assumed she would stay for a few weeks, but with Bullocks providing the addresses of their biggest clients for the invitations, opening night was a smash success. One commission soon led to another. It also wasn't long before Frances, who had separated from her husband before heading west, became a fixture at parties six nights a week. (She always had a knack for befriending her subjects.) Dolores del Rio was the first of several stars Frances painted, but she also did portraits of wealthy residents and their children. We don't know exactly where she met Mary or why Mary chose this moment to have her portrait painted, but early 1935 was a challenging time: her marriage to Doug was all but over, her beloved brother Jack had died and it had been two years since she had made a film. She obviously trusted Frances – Mary posed for her half a dozen times for several hours each session – and Frances gave the following description of their time together in her autobiography:
Mary Pickford was in gold lame and standing with Douglas Fairbanks the night I met them. That was the last time the famous pair stood side by side. Their divorce became final shortly after. I started her portrait at Pickfair in the guest house by the pool – three stately rooms, dressing rooms and baths. Miss Pickford's Rolls Royce and Filipino chauffer came for me every morning and I sat on the white linen seat covers and looked into the tiny mirrors before me, above in front – one on each side – installed by Mr. Rolls Royce in case America's sweetheart or Mr. Fairbanks wished to see if their hats were on straight as they passed their admirers.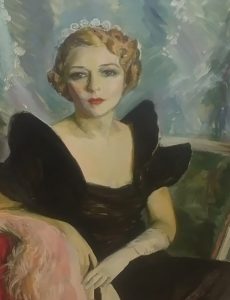 Miss Pickford looks like a child who wants to put her arm around the world and wipe away its tears. Because she is so tiny I had a hard time deciding what to paint her in. All day two maids brought costumes of every color with every kind of fur wrap and jewel from her wardrobe room of red Chinese lacquer cabinets. I finally settled on the simplest black and on the ruby velvet table beside her laid a pink feather fan – sky blue background a baby tiara in her blond curls.
I had my best visit with her that first day, when tired from the hauling on and off of clothes she curled up on one of the regal beds, rang for Albert, the butler, to bring some sherry and talked of her past. The spiritual world is real to her. One day as she posed, she quietly and eloquently recited the 23rdPsalm. Recently, years later, on her bond drive for Uncle Sam, I was affected to hear her quote in a radio appeal something I had told her long ago my mother said – although she had forgotten, no doubt, who told her: "Put aside thoughts of hate and revenge. Don't carry them around with you any more than you would carry a pail of garbage and set it in the living room." I had always thought Mother was very graphic in the use of that word "garbage-pail."
At Pickfair I met Buddy Rogers – who then was courting his bride to be. It was customary for the butler to pass mink coats with the coffee after dinner in the living room which the guests watched a movie. The house is kept at that invigorating English temperature which so enlivens your teeth they chatter.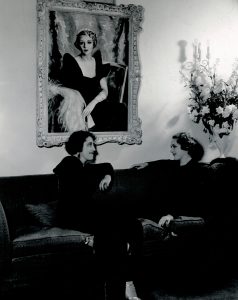 Disaster clutched my throat when the portrait was finished. I was looking at it, in my studio, in its handsome but tricky antique frame, when the doorbell rang. Not familiar with the frame's balance, I quickly set it against the wall and as I dashed to the door I heard a crash behind me. It had fallen back, an iron spike of a lamp was sticking through the neck. Upon seeing it, I gave an exceptional imitation of a dying hyena.
Miss Pickford and the portrait were to be shown at an afternoon gambol the next day for Ruth Pack of Minneapolis [an old friend of Greenman's] who was, in herself, a handsome exhibit but of course the party had to be postponed. It took a month to have the picture mended and rebacked. Again the party was under way when a newsman called me for the list of  guests for Miss Pickford's party. Sez I, "It is for Mrs. Pack." Sez he, "It's for Miss Pickford – we will take care of Mrs. Pack later."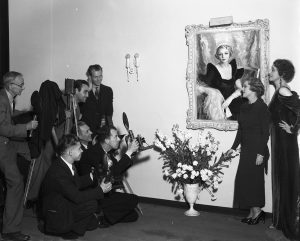 The way those cherubs of the fourth estate took care of her was to filch her imported toilet articles and sundries when, inebriated and the life of the party, they stepped into her dressing room to telephone. Because Miss Pickford was news they came like a swarm of locusts, took over the party before the guests got there – swept aside the tall bouquets of white flowers I had so lovingly arranged on either side of the portrait – moved the sofa – ordered out the buffet table to make room for their tripods – made the place a shambles. Charles Bayly – the man who manufactures overalls and buys Cranachs and Cassatts and other museum knickknacks – rolled up his sleeves and moved the party refreshments across the hall.  There he and other faithfuls took care of the guests, who could only wave at Miss Pickford and me from the door, while our friends from the press took 267 flashlights, stayed long after the last dog had died, and took with them such bottles of Scotch as were not nailed down. Darlings! Every mother's son-of-a…them!
In spite of the high jinks I telegraphed my parents:
Mary Pickford's tea great success. 20 newspapermen including 12 cameramen 8 reporters representing 17 newspaper syndicates for all countries including Japan and South Africa took flashlights of Mary and me. The news went around the world in 24 hours. I had 70 guests. Unbounded love, devotedly.
We can only assume that the party held to unveil the portrait was not quite as rowdy as Frances describes it for Mary was used to hosting large events, although perhaps with not so many reporters and photographers present. And we know she didn't blame Frances as she invited her to dinner whenever she passed through Los Angeles on her future travels. Frances never stayed as long again – when she left in the summer of 1935, she returned to Minneapolis to be with her daughters and ailing parents. She continued to support the family through her painting and, once her girls were in college, traveled for pleasure. She also taught painting and wrote a weekly column for the Minneapolis Tribune as well as her delightful autobiography. Frances Cranmer Greenman lived to be 90 and her paintings are still hung in homes and museums throughout Europe and America.
– Cari Beauchamp
From Higher than the Sky by Frances Cranmer Greenman, Harper & Brothers, New York 1954 pages 214-216
Other Sources
Los Angeles Times, February 16, 1935
Minneapolis Post, January 14, 2015
Minnesota Historical Society