David Belasco on bringing Mary Pickford to Broadway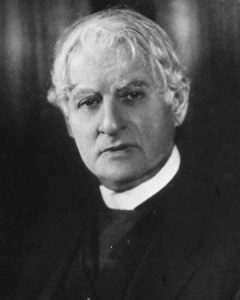 David Belasco (1853-1931) was one of the most prominent and prolific producers on Broadway when young Mary Pickford was touring in stock companies throughout the northeast in the early 1900s. It was her dream to be cast in a major New York play, particularly under Belasco, and that dream came true when she opened as Betty Warren in The Warrens of Virginia on December 3, 1907.
In the December 1915 issue of Photoplay, Belasco told this version of how Mary Pickford first came to his attention and why he chose her to play the role of Betty. Photoplay called Belasco "the most famous individual theatrical manager in the world" and was proud to note: "The story appears exactly as Mr. Belasco dictated it. It is one of the few narratives of contemporary theatrical affairs which he has thought worthy of his personal narration."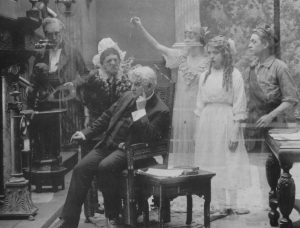 For a long time, I had been receiving a number of letters from a little girl who signed herself Mary Pickford… In one of her letters she told me she had vowed never to appear in New York except under my management. With each of her letters she enclosed a photograph, and they proved particularly interesting as in nearly every picture there was such variety of facial expression.
When I was casting "The Warrens of Virginia," by William C. De Mille (sic) I found the child's part, that of Betty Warren, to be an unusually good one. It needed a little girl with a strong sense of the dramatic and emotional, as well as a little comedienne.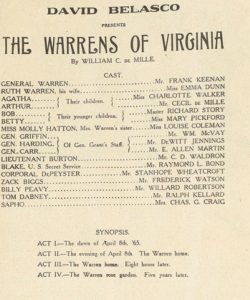 The cast was all made up, even the part of Betty – but I was not altogether satisfied with the girls I had for that role… It was a Thursday matinee, and the stage door man came and told me that a child wished to see me. I told him to tell her I couldn't see anyone. She insisted, so much so, that the man returned with a message that she had come a long distance to see me and had to leave town at noon the next day to resume her tour in some small play. She simply must see me before leaving New York!
Because of her persistency, and, remembering upon hearing her name, the many letters and photographs she had sent to me, I consented to receive her. Miss Pickford came into my little room off the stage, as sweet and pretty a picture as I had ever seen. She wore short dresses, with her hair down her back, and altogether she looked very charming… I saw at once that she was just my ideal for the part of Betty Warren. The more I listened to her the more I realized she was the child I wanted for this role. I asked little Mary her ambitions and she said she wanted to be an emotional actress. She showed me a number of letters making her offers to appear in plays, but she had refused them all. She told me that it had been her dream always to one day play for me.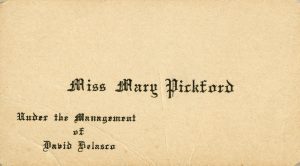 "I've come a long way to see you, Mr. Belasco; please don't disappoint me. And you will give me a part–you must." Then her voice choked a bit, but she bravely continued: "You might as well say you want me now, because I won't leave New York until you do. Our company is going on a long tour beginning tomorrow, but I am not going with it. I have made up my mind that now is the time for me to realize my dream."
I smiled, and she said: "Am I engaged?"
I answered, "You are."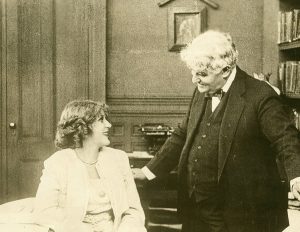 Rehearsing Mary Pickford was a great pleasure. She was a hard worker, the first at rehearsals and the last to go. She would go over and over her little scenes many times. She would read and re-read her lines to find out which was the best way to speak them. When she asked me about them I said to her: "Which do you feel the best?" Then she would tell me, and I would say, "That is the best way." She always took suggestions quickly, and acted upon them at once. She was very creative and a highly imaginative little body. She would say: "Oh Mr. David, I thought of something for my part. Will you look at it and let me know what you think about it?" Invariably, she was right, and I always let her do as she suggested. As I noted the little things she did with the part I understood why she had made such a success.
While Mary remembered small parts of the story differently such as recalling Belasco having a prominent role in changing her name from Gladys Smith to Mary Pickford, she always viewed being cast by Belasco as Betty in The Warrens of Virginia as one of the highlights of her professional life.
– Cari Beauchamp