These are scans from a one-of-a-kind scrapbook of Mary Pickford photographs and clippings created by Edna Wright between the years 1910 and 1915. Wright was a friend of the Pickford family and a journalist who wrote articles about Mary, Jack and Lottie for Motion Picture and Motion Picture Classic magazines.
Judging by th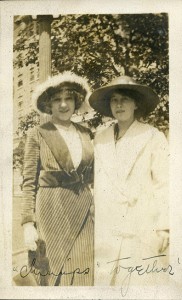 e personal captions Mary penned throughout the book, such as "To my little Edna," and "Going shopping with friend Edna,"the two women were quite close during the early years of Pickford's film career; Mary even made Edna the honorary godmother of her pet cat, Gubby.
Through intimate handwritten comments and dozens of never-before-seen candid snapshots, Wright's scrapbook offers a glimpse into the life of a young Mary Pickford at a moment just before her fame skyrocketed.