Released September 21, 1914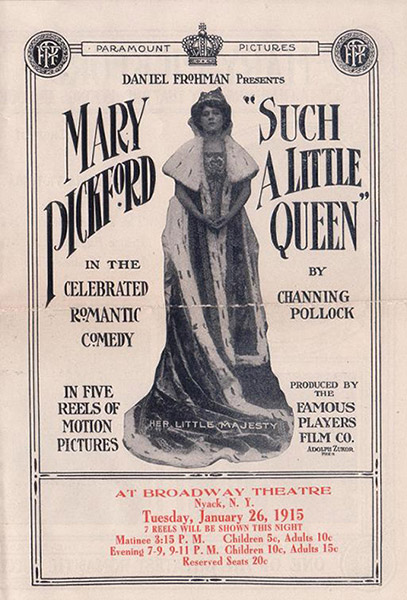 Role: Queen Anna Victoria
Co-stars: Carlyle Blackwell, Harold Lockwood, Russell Bassett, Arthur Hoops
Prod/Dist Co: Famous Players Film Company/Paramount Pictures
Director: Edwin S. Porter, Hugh Ford
Screenwriter: Hugh Ford, based on the 1909 stage play by Channing Pollock
Cinematographer: Ernest Hall
Note:  Originally produced at Broadway's Hackett Theatre in 1909,  Such a Little Queen  was remade by Realart Pictures in 1921, with Constance Binney in the lead.
Original review from  The Moving Picture World  (Oct. 3, 1914):
Miss Mary Pickford has the role of Queen Anna Victoria of Herzegovina; and her performance is that of rare quality which we always expect from this star. Comedy and drama are alike to her. She is as delightful in the one as she is moving in the other. As a comedienne she seldom does the anticipated; and therein to a great degree lies the charm of her work.