Released November 05, 1916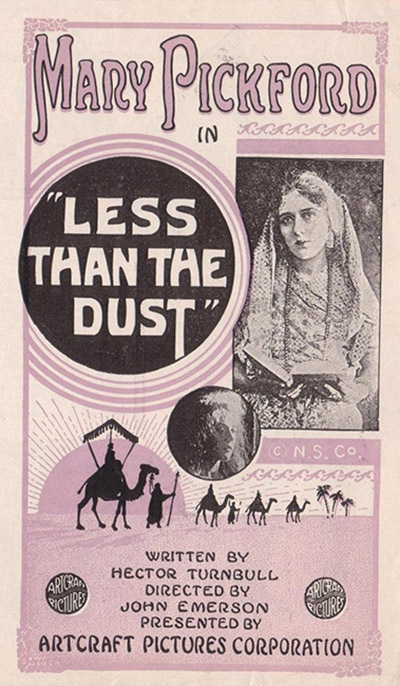 Role: Radha
Co-stars: David Powell, Frank Losee, Mary Alden, Mario Majeroni, Caesere Gravina, Francis Joyner, Russell Bassett, Nathaniel Sack
Prod/Dist Co: Mary Pickford Film Corporation/Artcraft Pictures Corporation
Director: John Emerson
Screenwriter: Scenario by Hector Turnbull
Cinematographer: George W. Hill
Produced by Mary Pickford
Less Than the Dust  was the first film released under Famous Players' new Artcraft division.
Original review from  The Motion Picture World  (Nov. 18, 1916):
Artcraft's bow to the photoplay public is a most happy one. It provides in the first place an excellent story; in the second place it brings back to the screen Mary Pickford, now for several months among the absentees. … The story is 'very much Pickford' but by no manner of means is it 'too much Pickford.' The popular player dominates the production, but she has fine support – from every department that enters into the making of a picture.