Released July 31, 1916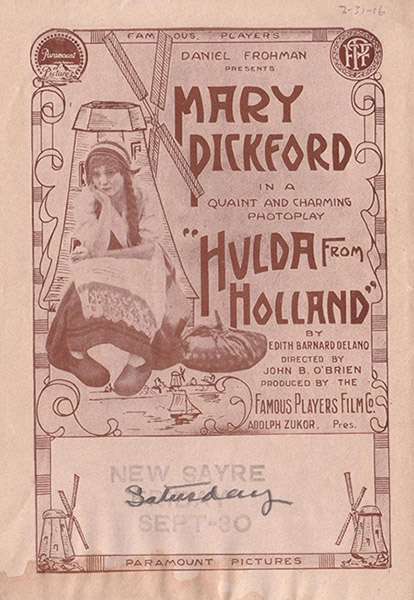 Role: Hulda
Co-stars: Frank Losee, John Bowers, Russell Bassett, Harold Hollacher, Charles E. Vernon
Prod/Dist Co: Famous Players Film Company/Paramount Pictures
Director: John B. O'Brien
Screenwriter: Scenario by Edith Barnard Delano
Cinematographer: Emmett Williams
Filming Location: Dutch village exteriors shot in Water Mill, Southampton, NY.
Original review from  The Moving Picture World  (Aug. 12, 1916):
'Hulda from Holland' as a picture will delight friends of Miss Pickford everywhere. Hulda as a characterization is filled with charm, with the distinctive bits that seem to be Miss Pickford's sole property in spite of manifold efforts by numerous others to appropriate them.