Released May 25, 1924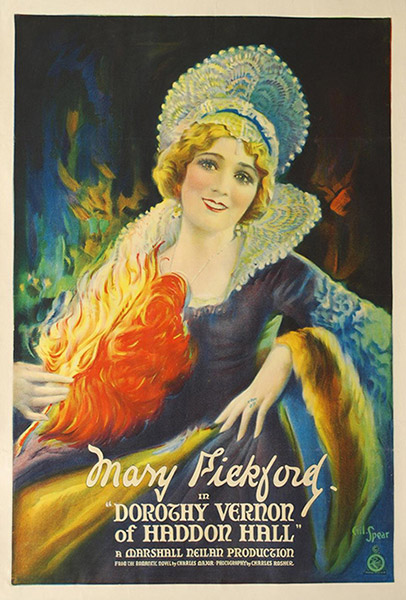 Role: Dorothy Vernon
Co-stars: Anders Randolf, Marc McDermott, Carrie Daumery, Allan Forest, Wilfred Lucas, Clare Eames, Estelle Taylor
Prod/Dist Co: Mary Pickford Productions/United Artists
Director: Marshall Neilan, Mary Pickford (uncredited)
Screenwriter: Adapted by Waldemar Young from the 1898 novel  When Knighthood Was in Flower  by Charles Major
Cinematographer: Charles Rosher
Filming Locations: Interiors shot at Pickford-Fairbanks Studios in Hollywood, CA; Outdoor scenes shot at Busch Gardens in Pasadena, CA.
Produced by Mary Pickford
Note: Mitchell Leisen designed Mary's costumes for the film, several of which are in the Natural History Museum in Los Angeles.
Original review from  Photoplay  (July 1924):
This new effort of Mary Pickford, one of the late Charles Major's historical romances, is exceedingly beautiful pictorially. …. Miss Pickford is  Dorothy  and the title role will please her army of followers. Although lovely optically, it offers little new. Workmanlike of technique, her acting strikes no big spark. It is careful and considered all the way. This mood of care seems to run all through the production.
Clips from Dorothy Vernon of Haddon Hall

Music by Julian Ducatenzeiler & Andy Gladbach