Released September 03, 1923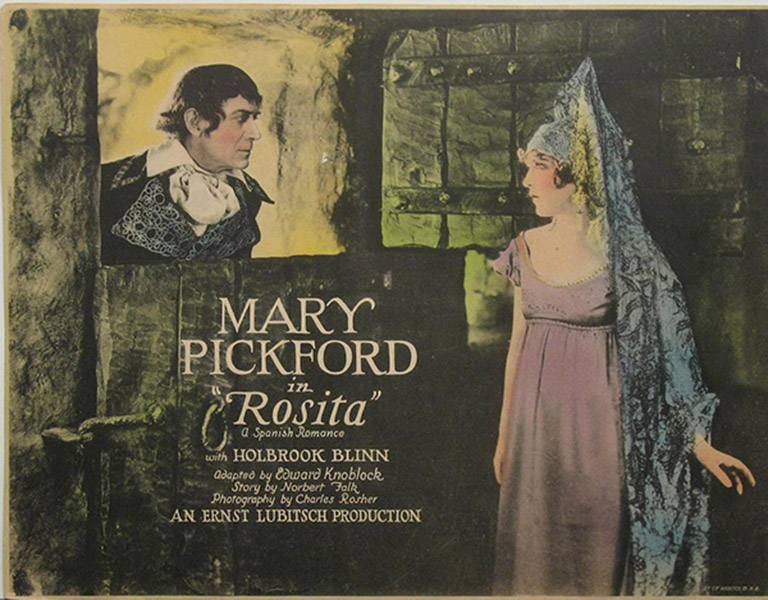 Role: Rosita, a street singer
Co-stars: Holbrook Blinn, Irene Rich, George Walsh, Charles Belcher, Frank Leigh, Mathilde Comont
Prod/Dist Co: Mary Pickford Company/United Artists
Director: Ernst Lubitsch, Raoul Walsh (uncredited)
Screenwriter: Edward Knoblock and Hanns Kräly, story by Norbert Falk, from the 1844 play Don César de Bazan by Adolphe Philippe Dennery and Philippe François Pinel
Cinematographer: Charles Rosher
Art Decorator: William Cameron Menzies
Filming Location: Pickford-Fairbanks Studios in Hollywood, CA
Produced by Mary Pickford

Note: Future Fox star Charles Farrell has a bit part in the film.

Original review from  Variety  (Sept. 6, 1923):
Enter Mary Pickford, actress, as Rosita in a screen production of the same name directed by Ernst Lubitsch. A Mary Pickford different and greater than at any time in her screen career; a Mary Pickford with her hair done up, pretty as a picture and displaying acting ability few thought her capable of. … 'Rosita' is going to mark an epoch in the career of this star.