Released October 18, 1925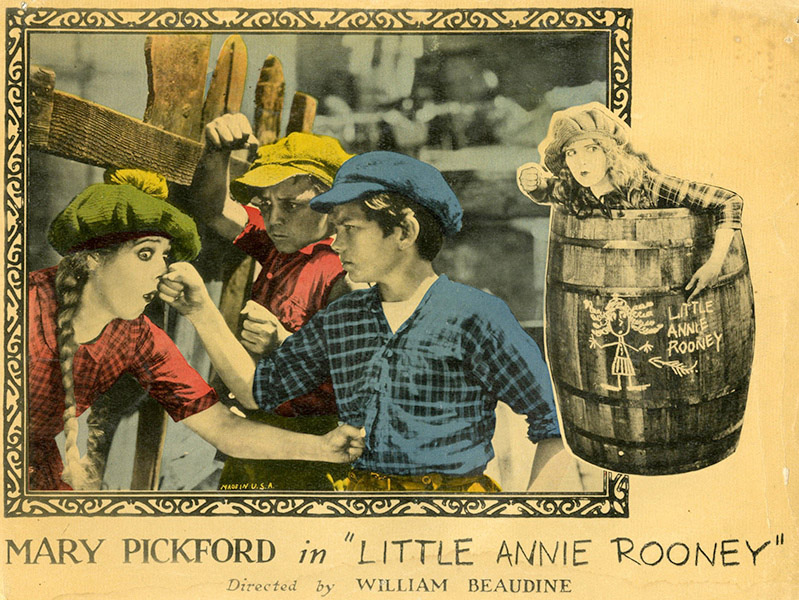 Role: Annabell 'Little Annie' Rooney
Co-stars: William Haines, Walter James, Gordon Griffith, Carlo Schipa, Spec O'Donnell, Hugh Fay, Vola Vale
Prod/Dist Co: Mary Pickford Company/United Artists
Director: William Beaudine
Screenwriter: Louis D. Lighton and Hope Loring, adapted from the story by Mary Pickford (credited as Catherine Hennessey); titles by Tom McNamara (uncredited)
Cinematographers: Charles Rosher, Hal Mohr
Filming Locations: Pickford-Fairbanks Studios in Hollywood, CA
Produced by Mary Pickford
Original review from the  Los Angeles Times  (Oct. 23, 1925):
A new popular triumph goes to Mary Pickford. Her picture 'Little Annie Rooney' will be hailed far and wide as great entertainment. It is the most amusing comedy she has made in ages, and marks her return to the hoyden type of role in which she has always won the height of favor. … From the reception accorded 'Little Annie Rooney'last night it would be safe to predict that it will be one of the most enjoyed pictures that Mary has made within the past three or four years.
Clips from Little Annie Rooney

Original Score by Andy Gladbach.