Released March 01, 1914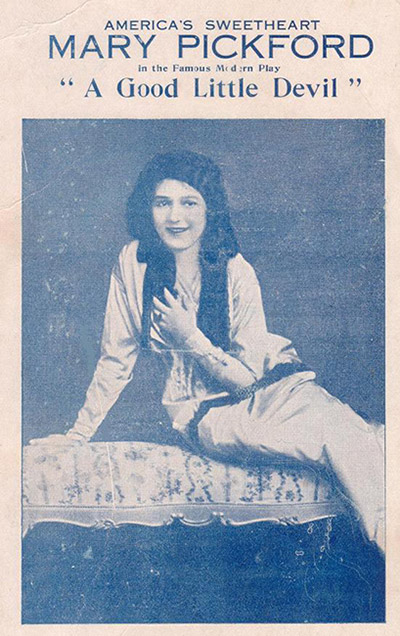 (Only one reel remains)
Role: Juliet
Co-stars: Ernest Truex, William Norris, David Belasco, Iva Merlin, Wilda Bennett, Arthur Hill, Edward Connelly
Prod/Dist Co: Famous Players Film Company/Famous Players-Lasky Corporation
Director: Edwin S. Porter (and J. Searle Dawley, uncredited)
Screenwriter: Based on the play by Austin Strong, adapted from the French play  Un bon petit diable by Rosemonde Gerard and Maurice Rostand
Cinematographer: Edwin S. Porter
Note: Mary had played the same role in David Belasco's 1913 stage version of  A Good Little Devil.
Original review from Variety (March 6, 1914):
Here's one film on which the movie exhibitor of the country can't go wrong. … There's a lot of good, wholesome fun in 'A Good Little Devil'and there's fantastical trimmings of the fairy land sort and real pathos of the typical kind that motherless little kids encounter each day that combine in making the play a movie worth while. Miss Pickford does bully work as the blind girl and makes the role stand out as a lovable, childlike sympathetic bit of acting that is irresistible.