On July 16, the Mary Pickford Foundation, the American Cinematheque and Seeking our Story will present the surround sound premiere of Mary Pickford's Little Annie Rooney at the Egyptian Theatre in Hollywood. This 4K high definition restoration with an original modern soundtrack provides today's audience with the ultimate viewing experience of this 90 year old film.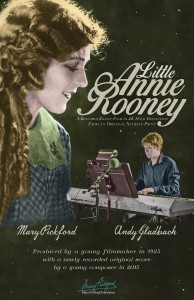 The process of restoring and scoring this Little Annie Rooney took several years. The original tinted nitrate print in Mary Pickford's personal collection at the Library of Congress, made from the camera negative in 1925, was brought to the Academy of Motion Pictures Arts and Sciences archive in Los Angeles.
Through the Mary Pickford Foundation's extraordinary, multi-year partnership with AMPAS, the Academy Film Archive preserved the film photochemically, creating new 35mm preservation masters and prints.
The preservation master was then scanned at 4K resolution so that the MPF, in cooperation with AMPAS, could create a digital version, evaluating the film frame by frame, removing dirt and other signs of deterioration to perfectly match the original nitrate tints and tones.
Then, through the MPF Composition Program at Pepperdine University, an extremely gifted young composer, Andy Gladbach, was chosen to create a new sound track for the film. Mentored by professionals, Gladbach was joined by a 16 piece orchestra that included three percussionists, as well as a conductor and engineers, to record his original music.
The end result combines and showcases the finest work of artists, craftspeople and musicians from this century and from 1925.
Tickets: https://goo.gl/ZG70GO