Released January 09, 1921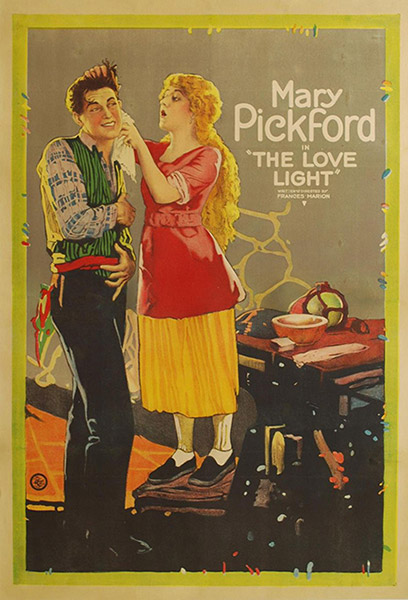 Role: Angela Carlotti
Co-stars: Evelyn Dumo, Raymond Bloomer, Fred Thomson, Edward Phillips, Albert Prisco, George Rigas
Prod/Dist Co: Mary Pickford Productions/United Artists
Director: Frances Marion
Screenwriter: Frances Marion
Cinematographers: Charles Rosher, Henry Cronjager
Filming Location: Coastal scenes shot near Carmel, CA; Lighthouse scenes shot at Point Fermin, near San Pedro, CA
Produced by Mary Pickford
Note: Initially titled  A Flame in the Dark,  The Love Light  story was conceived by Frances Marion while visiting Italy.
Original review from  Variety  (Jan. 14, 1921):
With any other star 'The Love Light' might be classed as an exceptionally good program picture … but with Miss Pickford it is certain to suffer by comparison with her other pictures. She is a symbol of sunshiny girlishness, and does not fit well into a garb of mature morbidity. Mary in motherhood is not Mary as the millions know – and want her.