Released September 22, 1917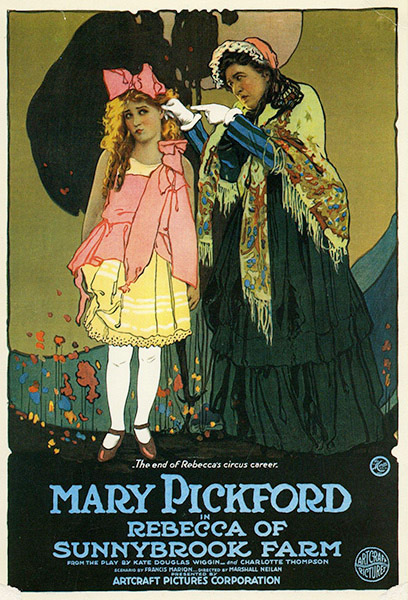 Role: Rebecca Randall
Co-stars: Eugene O'Brien, Helen Jerome Eddy, Charles Ogle
Prod/Dist Co: Mary Pickford Film Corporation/Artcraft Pictures Corporation
Director: Marshall Neilan
Screenwriter: Frances Marion, based on the 1909 play by Charlotte Thompson and Kate Douglas Wiggin, adapted from the 1903 novel by Kate Douglas Wiggin
Cinematographer: Walter Stradling
Filming Location: Exterior scenes shot in Pleasanton, CA. Farm house scenes shot in Gladwyne, PA and at nearby Valley Forge Studios; Interiors shot at Famous Players-Lasky Studio at 1520 Vine St. in Hollywood, CA.
Note: A young ZaSu Pitts had a role as an extra in the film.
From Variety (Sept. 14, 1917):
Superlatives, so indiscriminately used with reference to pictures in many instances, seem inadequate in properly approximating the transcendent merit of the latest Artcraft production, 'Rebecca of Sunnybrook Farm,' with Mary Pickford in the titular role. It is a master work that is going to stand supreme in its particular niche for several years to come. … Miss Pickford plays as she never played before, varying lights and shades to elicit the major interest, tearful at one moment and laughing the next, holding the auditor at all times in mute admiration.