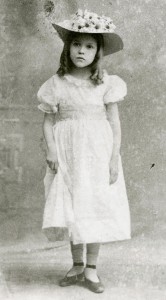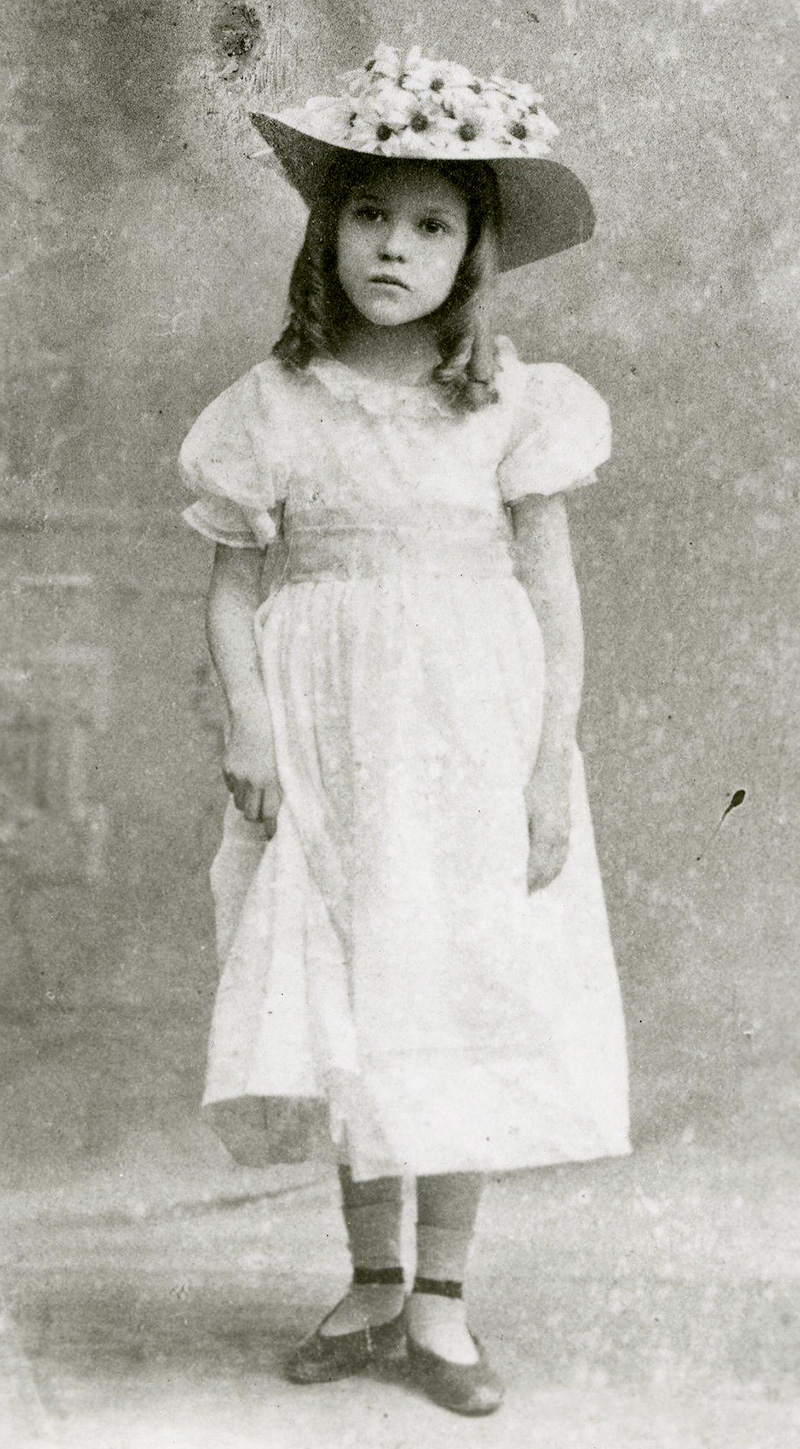 April 8, 1892: Gladys Louise Smith is born to John Charles and Charlotte Smith (née Hennessey) at 211 University Avenue in Toronto, Ontario, Canada.
June 9, 1893: Charlotte Smith (Lottie Pickford) is born in Toronto.
Late 1895: John Charles leaves his wife and children. Records show him moving to a house on Avenue Road in Toronto.
August 18, 1896: John Charles Smith, Jr. (Jack Pickford) is born in Toronto.
Circa 1896: When Gladys becomes seriously ill with diphtheria, she is baptized by a Catholic priest and her middle name is changed to 'Marie.'
February 11, 1898: John Smith dies of a cerebral hemorrhage after suffering an accident on the job.
Late 1899: To make extra money, Charlotte rents a room to the manager of the Cummings Stock Company of Toronto, who suggests that Gladys and Lottie be cast in a play.
January 8, 1900: 'Baby Gladys Smith' makes her stage debut at Toronto's Princess Theatre. She plays two roles in The Silver King: a female character referred to as 'Big Girl' and a boy named Ned.
November 1901: Gladys, Charlotte, Jack and Lottie begin touring the country and performing in plays.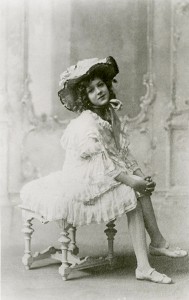 Circa 1905: The Smith family becomes acquainted with fellow stage actors Lillian and Dorothy Gish and their mother, Mary, when both families share a room in Manhattan one summer.
1907: At the suggestion of theatrical producer David Belasco, Gladys Smith becomes 'Mary Pickford.' The new moniker is inspired by her middle name, Marie, and her maternal grandfather's name, John Pickford Hennessey. Charlotte, Lottie and Jack take the name of Pickford too.
December 3, 1907: Mary begins her run in William de Mille's play, The Warrens of Virginia, at the Belasco Theatre on Broadway. William's brother, Cecil, plays Mary's older brother.
March 1909: The Pickfords find themselves unemployed after The Warrens of Virginia closes, and Charlotte suggests Mary seek work in the new medium of moving pictures.
April 20, 1909: Mary performs in her first film – a small role as a ten-year-old girl in the short Her First Biscuits, directed by D.W. Griffith – and signs on with the Biograph Company at $10 per day. On this day, she also meets future husband, fellow Biograph actor Owen Moore.
April 24, 1909: Mary gets her first starring role in a Biograph short, playing Giannina in The Violin Maker of Cremona.
August 21, 1909: Mary is singled out in a movie review when the New York Dramatic Mirror writes of the short They Would Elope: "This delicious little comedy introduced again an ingénue whose work in Biograph pictures is attracting attention."
January 1910: Mary travels to Southern California with the Biograph Company, where they will film through the winter. During this time, Florence Lawrence, known as 'The Biograph Girl' moves to Carl Laemmle's Independent Moving Picture Company of America (IMP), and Mary Pickford becomes the new 'Biograph Girl.'
December 1910: Mary leaves Griffith and signs on with IMP at $175 per week.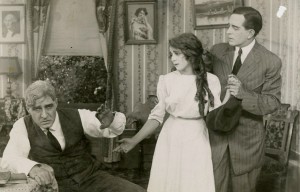 January 7, 1911: After borrowing a long dress and high heels from the wardrobe department, Mary marries Owen Moore in a secret ceremony in Jersey City, N.J.
January 1911: Mary stars in her first IMP short, entitled Their First Misunderstanding, with Owen Moore as her leading man. Shortly afterward, the IMP company moves to Palacio del Carneado, just outside of Havana, Cuba.
September 1911: After returning to New York from Cuba, Mary breaks free from her IMP contract and signs with the Majestic Company at $225 per week.
January 1912: After filming a handful of shorts with the Majestic and Selig companies, Mary returns to the Biograph Company, where she will stay through March of 1913.
Summer 1912: After seeing their old friend on screen in the short Lena and the Geese, the Gishes head to the Biograph office to find Mary. She introduces Lillian and Dorothy to D.W. Griffith, who hires them both.
December 1912: David Belasco casts Mary in his new stage production, A Good Little Devil.
January 9, 1913: Mary debuts as Julia in A Good Little Devil at Belasco's Republic Theatre, and receives glowing reviews.
April 1913: Adolph Zukor films a feature version of A Good Little Devil for his new Famous Players Company. Mary reprises her role as Julia in her first feature-length film; Zukor shelves it for eleven months and releases it in 1914.
April 1913: Mary signs a one-year contract with Zukor at Famous Players for $500 a week.
September 10, 1913: In the Bishop's Carriage is released to critical and box-office success. A reviewer from Bioscope magazine calls it, "the sort of picture that is wanted more urgently every day now."
March 20, 1914: Tess of the Storm Country is released to great success. Variety declares "Little Mary Pickford comes into her own," and that she has stuck "another feather in her movie crown." Mary's fame soars and her salary is doubled to $1000 a week, making her the world's highest-paid actress.
April 1914: Mary meets artist and writer Frances Marion and a lifelong personal and professional relationship begins.
July 5, 1914: Mary's old Biograph co-star and friend James Kirkwood directs his first Pickford feature, The Eagle's Mate. He will go on to direct 8 more films for Mary, including Rags and Esmeralda.
1914: Movie theater owner David Grauman, father of Sid, gives Mary the nickname of 'America's Sweetheart.'
January 1915: Mary's salary is doubled to $2000 per week. According to David Belasco's 1915 Photoplay article, she is frequently referred to as 'The Queen of the Movies.'
May 1915: Mary meets co-star Marshall Neilan while filming Rags. She will hire 'Mickey' to direct many of her most popular films including Stella Maris and Daddy-Long-Legs.
November 1915:  Mary attends a party at the home of friend Elsie Janis in Tarrytown, N.Y. where she meets Douglas Fairbanks. Both are married and at the party with their spouses, but the two strike a friendship.
May 1916: After 20 successful features together, including Cinderella (1914) and Rags (1915), Mary and Zukor renegotiate her salary again, settling on $10,000 a week. The new deal also gives Mary the power to choose her own projects, writers and directors, releasing films under the Artcraft name.
July 19, 1916: Zukor's Famous Players merges with Jesse L. Lasky's Feature Play Company, forming Famous Players-Lasky.
August 1916: Mary is the first movie star to form her own production company. Mary Pickford Film Corporation will produce only Pickford films to be distributed by the Artcraft division at Famous Players-Lasky.
September 1916: Famous Players-Lasky Corporation takes control of Paramount Pictures, a film distribution company.
December 1916: Mary and Douglas Fairbanks share an emotional drive through Central Park after Fairbanks' mother dies, and the two begin their love affair. Shortly afterward, Mary moves permanently to Los Angeles and will shoot all of her subsequent films there.
March 5, 1917: The Poor Little Rich Girl, written (adapted from a 1913 stage play) by Mary's friend Frances Marion, debuts to great acclaim. Mary, at 25, convincingly plays a girl of 12.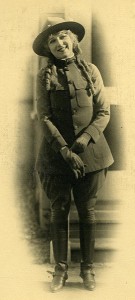 April 1917: The United States enters World War I, which had been raging in Europe for about four years. Mary's next two films, A Romance of the Redwoods and The Little American, will be directed by Cecil B. DeMille.
Autumn 1917: Mary again successfully portrays a young girl in Rebecca of Sunnybrook Farm (released in September) and A Little Princess (released in November), both adapted by Frances Marion from popular novels.
January 21, 1918: Mary's acting triumph, Stella Maris, is released. Playing the dual roles of pampered invalid Stella Maris and homely orphan Unity Blake, Mary transforms herself into two distinct physical personas.
April 1918: Mary, Douglas Fairbanks, Marie Dressler and Charlie Chaplin tour the country promoting Liberty Bonds. Together they sell over $18 billion in bonds, and the world discovers the power movie stars have over the public.
September 29, 1918: Johanna Enlists is released, a film in which Mary encourages support for the Allied cause and tells soldiers not to come back until they've taken "the germ out of Germany!"
October 22, 1918: Beth Fairbanks files for divorce on grounds of infidelity, without naming a correspondent.
November 6, 1918: Mary parts ways with Adolph Zukor, accepting an offer from First National Exhibitors' Circuit for $675,000 plus half of the profits for three pictures.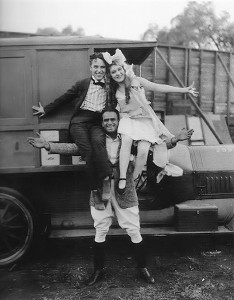 January 15, 1919: Hearing rumors of studio consolidations and fearing it would limit their artistic and financial control over their productions, Mary Pickford, Douglas Fairbanks, Charlie Chaplin, D.W. Griffith and William S. Hart draw up a letter of intention to form United Artists.
February 5, 1919: After losing Hart to a deal with Adolph Zukor, Pickford, Fairbanks, Chaplin and Griffith officially join forces to form United Artists Corporation.
1919: Mary forms The Mary Pickford Company, devoted exclusively to producing films distributed by United Artists.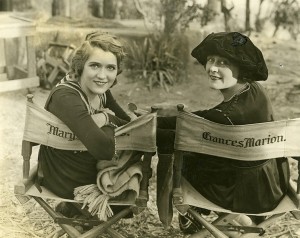 January 18, 1920: Pollyanna, adapted by Frances Marion, is released. Mary's first production for United Artists, the picture grosses $1.1 million.
March 2, 1920: Mary travels with Charlotte to Nevada to obtain a divorce from Owen Moore on grounds of desertion.
March 28, 1920: Mary and Douglas Fairbanks marry in an intimate ceremony at the Glendale, Calif. home of Rev. J. Whitcomb Brougher. They move into a converted hunting lodge in Beverly Hills owned by Fairbanks, later to be dubbed 'Pickfair.'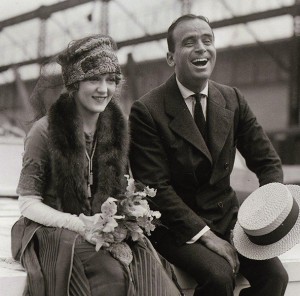 June 1920: Joining fellow newlyweds Frances Marion and Fred Thomson on a European honeymoon, Mary and Doug visit cities such as London and Paris where they are swarmed by fans.
1921: Mary helps create the Motion Picture Relief Fund, a financial assistance fund for film industry employees in need. Joseph Schenck serves as president, and Mary is vice-president.
September 11, 1921: Mary makes cinematic history by portraying both a boy and his mother in Little Lord Fauntleroy, another commercially and critically successful dual role.
October 1, 1921: Mary, Doug, Charlotte, Gwynne and Doug's brother Robert Fairbanks board the RMS Olympic in New York for a two-month tour of England, France, Italy and Algiers.
1922: Mary and Doug open the Pickford-Fairbanks Studio at Santa Monica Blvd. and Formosa Ave. in Hollywood.
October 1922: Mary hires German director Ernst Lubitsch to helm Dorothy Vernon of Haddon Hall; he will instead direct Pickford in Rosita (1923).
November 1922: Mary remakes one of her biggest early hits, Tess of the Storm Country, after purchasing the story rights from Adolph Zukor for $50,000.
April 12, 1924-July 1924: Mary and Charlotte board the RMS Olympic to England, where they meet Noel Coward and visit Haddon Hall. They travel on to France, Spain, Germany, Switzerland, Belgium and Norway.
1925: Mary buys 132 reels of her Biograph films.
March 1926: Mary, Doug, Gwynne and Charlotte board the SS Conte Biancamano to Italy, where they hear Benito Mussolini speak. They travel to Russia in July, and a film is made of their visit (A Kiss from Mary Pickford, 1927). They had planned to go to China, but they cut the trip short due to Charlotte's illness and return on September 3, 1926.
May 14, 1926: Sid Grauman's Egyptian Theatre in Hollywood features a double premiere: Mary Pickford's Sparrows and Doug Fairbanks' The Black Pirate.
April 30, 1927: Mary and Doug become the first stars to imprint their hands and feet in cement in the forecourt of Grauman's Chinese Theater in Hollywood.
May 1927: Mary and Doug are among 36 founders of the Academy of Motion Picture Arts and Sciences, and Doug is elected its first president.
October 31, 1927: My Best Girl, Mary's final silent film, is released. The picture co-stars Charles 'Buddy' Rogers.
March 21, 1928: Charlotte Pickford, Mary's mother and biggest supporter, dies of breast cancer.
March 29, 1928: Mary, Doug, Charlie Chaplin, D.W. Griffith, Gloria Swanson, Norma Talmadge, Dolores Del Rio and John Barrymore lend their voices to a Dodge Motors-sponsored radio broadcast to prove their ability to handle the new technology of talking pictures. The reviews are largely negative.
June 21, 1928: Mary makes the front page of the New York Times and shocks the world by cropping her signature curls into a short bob. She later writes of the decision, "Were the choice given to me again, I am positive I would not do it."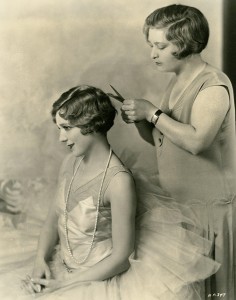 April 12, 1929: Coquette, Mary's first sound feature, premieres. Despite Mary's ambivalence toward the sound medium, public reaction is favorable, and the film grosses $1.4 million.
October 1929: Mary and Doug work together in The Taming of the Shrew, their first and last co-starring film.
September 1929-January 1930: Mary and Doug embark on a "world tour," visiting London, Paris, Switzerland, Egypt, China and Japan, returning to the U.S. via San Francisco on the Asama Maru.
April 3, 1930: Mary wins a Best Actress Academy Award for her work in Coquette.
1932: Mary starts the Payroll Pledge Program, a plan in which movie studio employees donate one-half of one percent of their paychecks to the Motion Picture Relief Fund.
January 3, 1933: Jack Pickford dies in Paris at age 36 due to health problems relating to alcoholism.
March 15, 1933: Secrets, Mary's final film, opens the same week President Roosevelt closes the banks. Like all films released this week, Secrets performs poorly at the box-office.
July 2, 1933: Louella Parsons makes the front pages of newspapers around the country by printing the news that Mary and Doug are separating.
December 8, 1933: Mary sues Doug for divorce.
Late December 1933: Mary appears in the play The Church Mouse at New York City's Paramount Theatre on Broadway.
Late 1933: Mary is in discussions with Walt Disney to portray Alice in a live-action-meets-animation version of Alice in Wonderland. The project never materializes.
1934: Mary pens Why Not Try God?, a booklet touting Christian Science.
August 7, 1934: Mary publishes her novel The Demi-Widow (with assistance from Belle Burns Gromer). The book is generally well-received.
1935: Mary writes another booklet for the Christian Science church entitled My Rendezvous With Life.
January 10, 1936: Mary's divorce from Doug becomes final.
February 1936: Mary begins hosting Parties at Pickfair, a CBS radio program that will be canceled after 13 weeks, proving unpopular with a Depression-era public.
March 7, 1936: Douglas Fairbanks marries British socialite Lady Sylvia Ashley.
September 1936: Mary partners with Jesse Lasky to form Pickford-Lasky Productions. They produce two films, One Rainy Afternoon and The Gay Desperado, before dissolving their partnership.
December 9, 1936: Lottie Pickford dies of a heart attack.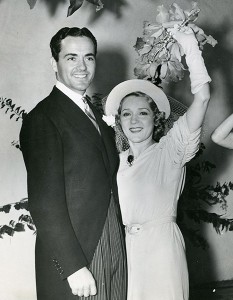 June 26, 1937: Mary marries Charles 'Buddy' Rogers in a ceremony at friend and screenwriter Hope Loring's house. Ten years earlier, Loring had written the screenplay for My Best Girl, the film that brought Rogers and Pickford together.
1938: Mary develops Mary Pickford Cosmetics, a range of make-up products designed to be affordable to the masses.
June 9, 1939: Owen Moore dies of a cerebral hemorrhage.
December 12, 1939: Douglas Fairbanks dies of a heart attack.
1941: Mary is co-founder of the Society of Independent Motion Picture Producers, along with Charlie Chaplin, Orson Welles, Walt Disney, David O. Selznick, Samuel Goldwyn, Alexander Korda and Walter Wanger.
May 2, 1943: Mary and Buddy adopt a son, Ronald Charles Pickford Rogers.
1944: Mary and Buddy adopt a daughter, Roxanne Pickford Rogers.
1949: Mary, Buddy and Malcolm Boyd form PRB (Pickford-Rogers-Boyd), a radio and television production company based in New York City.
February 1951: Mary and Charlie Chaplin hand over the reins of United Artists Corporation to lawyers.
March 19, 1953: Mary appears on television at the 25th annual Academy Awards, handing Cecil B. DeMille his Oscar for The Greatest Show on Earth.
March-June 1954: Mary's own version of her life story is published serially in issues of McCall's magazine; these articles will serve as the basis for Sunshine and Shadow, her autobiography published in 1955.
November 19, 1955: Mary is one of 20 silent film greats to be awarded "Georges" from Eastman House in Rochester, New York during "First Festival of Film Artists." A total of 20 awards were given out, 5 each to actresses, actors, directors and cameramen. Other actresses included Gloria Swanson, Lillian Gish, Mae Marsh and Norma Talmadge.
February 1956: Mary sells her shares in United Artists for $3 million, after Chaplin had sold his the year before, marking the departure of the last original founder from the company.
1956: Mary establishes the Mary Pickford Charitable Trust, which will later be renamed the Mary Pickford Foundation.
October 22, 1958: Mary's friend and frequent director, Marshall Neilan, dies from throat cancer.
August 24, 1963: James Kirkwood, another close friend and former director, dies at age 88.
October 1965: The Cinémathèque Française holds a Mary Pickford retrospective celebrating her films; Mary travels to Paris for the event.
May, 1971: The Los Angeles County Museum of Art sponsors a worldwide celebration of Mary's body of work, with simultaneous screenings of her films in cities across the globe.
May 27, 1973: The Ontario Heritage Foundation erects a plaque honoring Mary near her Toronto birthplace.
March 29, 1976: Mary receives an honorary Oscar for her contribution to motion pictures. No longer making public appearances, she accepts the award from Pickfair.
May 29, 1979: Mary Pickford dies at Santa Monica Hospital following a stroke.
Sources:
Bean, Jennifer. Flickers of Desire: Movie Stars of the 1910s. New Jersey: Rutgers University Press, 2011.
Beauchamp, Cari. Without Lying Down: Frances Marion and the Powerful Women of Early Hollywood. Berkeley and Los Angeles: University of California Press, 1997.
Brownlow, Kevin. Mary Pickford Rediscovered: Rare Pictures of a Hollywood Legend. New York: Harry N. Abrams, 1999.
Herdon, Booton. Mary Pickford and Douglas Fairbanks. New York: WW Norton, 1977.
Leavey, Peggy Dymond. Mary Pickford: Canada's Silent Siren, America's Sweetheart. Toronto: Dundurn Press, 2011.
Niver, Kemp R. D.W. Griffith: His Biograph Films in Perspective. Los Angeles: John D. Roche, Inc., 1974.
Pickford, Mary. "My Whole Life." McCall's, March-June, 1954.
Pickford, Mary. Sunshine and Shadow. New York: Doubleday, 1955.
Slide, Anthony. Selected Film Criticism, Volume 1. New York: Scarecrow Press, 1982.
Walker, Alexander. The Shattered Silents: How the Talkies Came to Stay. London: Elm Tree Books, 1978.
Whitfield, Eileen. Pickford: The Woman Who Made Hollywood. Kentucky: The University Press of Kentucky, 1997.