Exciting news for all Cinephiles and silent fans: on this Labor Day weekend the Mary Pickford Foundation will join the annual Cinecon Classic Film Festival in Hollywood for a special screening of two Mary Pickford films, The Pride of the Clan and The School Teacher and the Waif. The Pride of the Clan has not been shown in Los Angeles in over 20 years, and this rare Biograph short has not been on the big screen in decades.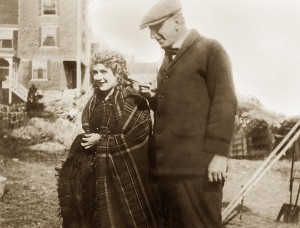 The Pride of the Clan (1917) stars Mary Pickford when she had just been voted America's most popular movie star by the readers of Motion Picture magazine and her worldwide fame was skyrocketing. Pickford enlivens this silent drama as Scottish lass Marget McTavish, who falls in love with fisherman Matt Moore and takes command of the clan after her chieftain father dies at sea. Maurice Tourneur's direction, Clarence Brown's editing, and groundbreaking cinematography combine to make The Pride of the Clan "ten years ahead of its time" according to film scholar Richard Koszarski.
D.W. Griffith directs Biograph star Mary Pickford in her first appearance as the legendary and impish Pickford "waif" in the 1912 short The School Teacher and the Waif. Griffith captures the young actress on the brink of her stardom as Nora, a wild, untamed girl whose life is changed by teacher Edwin August.
Since 1965, Cinecon has been "seventh heaven for cinephiles who have seen nearly everything TCM and AMC have to offer," with five days of classic film screenings, special programs, celebrity guests, and the best movie memorabilia show in the nation. Reserve your passes here for Labor Day weekend, August 29th to September 2nd 2013, in Hollywood. The screening starts with The School Teacher and the Waif at 8:00 pm on Friday, August 30th, followed by The Pride of the Clan at 8:10.