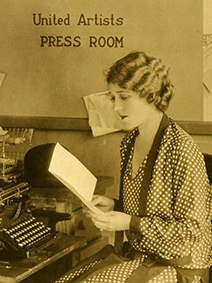 Scholarships & Endowments
The Mary Pickford Foundation is proud to continue and expand upon Mary Pickford's legacy of assisting students in completing their higher education.
Art Center College of Design in Pasadena »
BYU/Marriott School »
Claremont McKenna College »
Claremont Graduate University »
Gallaudet University »
Mount St. Mary's College »
Occidental College »
Pepperdine University/Seaver College »
Pitzer College »
Santa Monica College »
UCLA School of Theater, Film & Television »
USC/Davis School of Gerontology »
USC/Leventhal School of Accounting »
USC/School of Cinematic Arts »
Education Announcements
The Mary Pickford Foundation is proud to support an internship program at Chapman University's Dodge College. During the Winter 2014 term, two Masters students, Caitlin McCain and Skylar Hunter, selected by Assistant Professor of Film Studies, Emily Carman, will be cataloging archivist Alan Boyd's nitrate film collection under his direct supervision.
The Mary Pickford Foundation has provided a scholarship grant to Pepperdine University students to compose and perform original music for Biograph short films starring Mary Pickford. Students will be composing scores for the 1912 short films, The School Teacher and the Waif; So Near, Yet So Far and A Lodging for the Night. Filmmaker, archivist, musician and Grammy winner Alan Boyd will be working with the Foundation's Elaina Archer and Henry Stotsenberg in this endeavor.


Read More »
Mary Pickford's Speech at the USC Delta Kappa Alpha Silver Anniversary Banquet on January 6th, 1963

Clip courtesy of Jeffrey Vance.
USC Mary Pickford Foundation Alumni Awards
The Mary Pickford Foundation and the University of Southern California have a long-standing partnership. A key element of that partnership is The Mary Pickford Foundation Alumni Award which is given annually to a former USC student "whose extraordinary achievements bring special distinction to the USC School of Cinematic Arts and to the industry." Past recipients include Conrad L. Hall, Ray Harryhausen , Alan Ladd Jr., Michelle Manning, Jay Roach, Stacey Sher, John Singleton, David L. Wolper, Robert Zemeckis , Laura Ziskin , Shonda Rhimes, Jon Laudau and Lee Unkrich. Mad Men creator Matthew Weiner is the 2013 recipient.