USC Mary Pickford Foundation Alumni Awards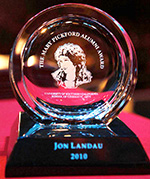 The Mary Pickford Foundation and the University of Southern California have a long-standing partnership. A key element of that partnership is The Mary Pickford Foundation Alumni Award which is given annually to a former USC student "whose extraordinary achievements bring special distinction to the USC School of Cinematic Arts and to the industry." Past recipients include Conrad L. Hall, Ray Harryhausen , Alan Ladd Jr., Michelle Manning, Jay Roach, Stacey Sher, John Singleton, David L. Wolper, Robert Zemeckis , Laura Ziskin , Shonda Rhimes, Jon Laudau and Lee Unkrich. Mad Men creator Matthew Weiner is the 2013 recipient.
Scholarships & Endowments
We are proud to continue and expand Mary Pickford's legacy of assisting students in completing their higher education by maintaining scholarships and endowments. Every year, over two dozen students receive scholarships in Mary Pickford's name.

Letters from Mary Pickford Foundation Endowed Scholars:
Schools endowed by the Mary Pickford Foundation:
American Film Institute
Art Center College of Design in Pasadena
BYU/Marriott School
Claremont McKenna College
Claremont Graduate University
Gallaudet University
Mount St. Mary's College
Occidental College
Pepperdine University/Seaver College
Pitzer College
Santa Monica College
UCLA School of Theater, Film & Television
USC/Davis School of Gerontology
USC/Leventhal School of Accounting
USC/School of Cinematic Arts
The Foundation with the Academy of Motion Picture Arts and Sciences will be supporting an effort to develop K-12 education programs. We are also studying the feasibility of creating educational outreach programs for scholars in the field of film and music.