In today's world of global social media outlets, celebrities have a broader fan base than ever before. Some, such as Katy Perry and Taylor Swift, have numbers as high as seventy million fans on Facebook and Twitter. That is a sizable portion of the world's population, but now imagine having that same percentage of people knowing your name before the invention of the internet, television or even radio. This is what Mary Pickford achieved in the 1910s and '20s—a name and likeness instantly recognizable to the farthest reaches of the planet.
Pickford's international impact is illustrated in the Academy's Scrapbook #21, an enormous fan-made book featuring magazine and newspaper articles showcasing the "Mary Pickfords" of different nations. These clippings make it clear that Mary set the global standard for motion picture fame in her era. Back then, if a foreign film star attracted enough adoring fans, she was dubbed the "Mary Pickford" of her country, meaning she had reached the absolute pinnacle within her industry.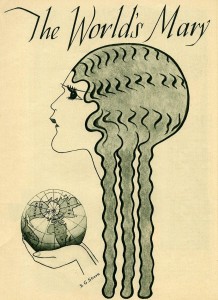 No one who witnessed Mary Pickford's unprecedented rise to global fame is alive today, so the modern world has a hard time grasping just how popular she was. In 1915, it was estimated that more people in Chicago and New York alone viewed Mary in a year than looked upon Napoleon in the course of his whole life. Journalist Adela Rogers St. Johns called Mary "the woman who was known to more people and loved by more people than any other woman that has been in all history." By 1918, the actress the public once called "Our Mary" had grown into "The World's Mary."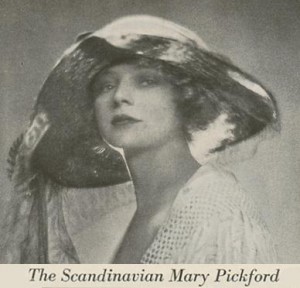 Once the name Mary Pickford was universally synonymous with being the biggest and the best, other "Mary Pickfords" began appearing in various parts of the world. There was Mexico's answer to Mary Pickford, Emma Padilla; the Mary Pickford of Russia was called Marie Judah; the Scandinavian Mary Pickford was Ann Forest of Denmark, the list goes on and on. These stars were not necessarily emulating Mary in any way, but they were promoted as examples of their national cinema's brightest ingénues.
Being crowned the Mary Pickford of one's country served another purpose—it attracted the attention of Hollywood. Popular actresses from the far corners of the globe sent their photos to film companies and to the American press, hoping to be discovered and whisked into Tinseltown where they might follow in the real Mary's footsteps. In the late 1910s, French star Suzanne Grandais was considered "the only one able to interpret ingénue Mary Pickford roles" in her country. A publicity campaign was built around her as the Mary Pickford of France, and she was planning a trip to Hollywood to try her luck at American films when she was killed in a car accident in 1920. "Her countrymen idolized her much as we do our Mary," read her obituary in a U.S. movie magazine.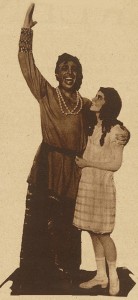 Some countries produced multiple Marys. Scrapbook clippings indicate that Italian screen stars Soava Gallone and Delza Mona Mazza were both referred to as the Mary Pickford of Italy. England boasted three Mary Pickfords: Alma Taylor, Queenie Thomas and Betty Balfour. Sweden had four Mary Pickfords and one of them, Sigrid Holmquist—also known as Sweden's Sweetheart—made the leap to Hollywood and was moderately successful in silents for a few years. Swedish audiences seemed particularly fond of Mary Pickford and Douglas Fairbanks, and their look-alikes (known as Mr. Klange and Mrs. Lowenstrom) gained fame from impersonating Doug and Mary in Stockholm stage shows.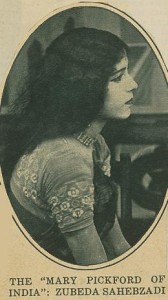 The Mary Pickford of China, Lee Shut Moy of Hong Kong, reportedly had the distinction of being the "world's youngest leading woman," starring in pictures at only sixteen. India's sweetheart Zubeda Sahebzadi could have given her a run for her money—she found screen stardom at sixteen as well. But the Japanese Mary Pickford may be the most unique of them all; his name was Teijiro Tachibana, and he was renowned for his convincingly delicate and demure heroines. Because Japanese cinema was rooted in the traditions of the noh and kabuki theatrical dramas in which men played women's roles, male actors typically portrayed females in early Japanese silent films. Tachibana played women exclusively until his death in 1918 at age twenty-five.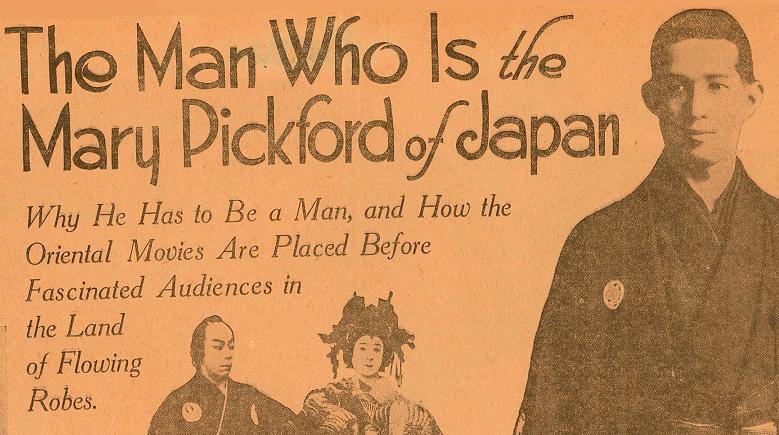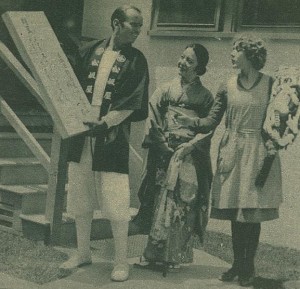 Later, Japan also gained a female Mary Pickford. Komaka Sunada was a popular young leading lady of a Japanese film company who wished to meet the real Pickford in person, and whose wish was granted in 1927. A small image survives of Sunada presenting gifts to Mary and Doug when she visited Hollywood to study American filmmaking.
Earning the title "Mary Pickford of…" was not limited to geographical locations. It was sometimes bestowed upon a Pickfordesque performer in another field, such as stage ingénue Edna Northlane, known as the Mary Pickford of Vaudeville, or May Collins, the Mary Pickford of Industrial Pictures, who starred in Dr. Francis Holley's educational films exhibited free from a Washington, D.C. mobile classroom truck in the early 1920s.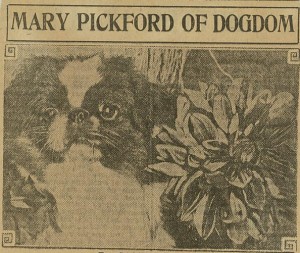 It seems that practically everyone sought a slice of Mary Pickford's fame in the silent film era. Remarkably, there was even a Mary Pickford of Dogdom. Champion Sherwood Nichu was a prize-winning Pekingese diva of aristocratic breeding who won acclaim at dog shows across the country before retiring to her comfortable home in San Mateo, California. According to Scrapbook #21, Nichu counted among her admirers "many princesses and dukes," and was "simply wild about intoxicating liqueurs."
This scrapbook also contains a 1920 article about Mary Pickford's professional stand-in Louise DuPre, called an "understudy" in the days before the term "stand-in" was used. According to Motion Picture Classic magazine, DuPre—who closely resembled Mary and was exactly her size—had her "dream come true" by working as Mary's double. "Over all the surface of the world, wherever motion pictures are shown," journalist Charles G. Rich wrote, "and that means everywhere except in the deserts, the mountain fastnesses, the forest and the jungle, little girls and big girls too … have stood long and often before their mirrors and have tried to find in the reflection something that resembled the great Mary Pickford."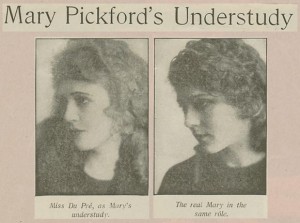 As imitation is said to be the sincerest form of flattery, Mary may have been flattered by her worldwide admirers, but she saw herself as a symbol. "I do not believe that any one person in the world is big enough for the acclaim of many thousand earnest people," she wrote after touring China, Japan, Egypt and India with Doug in 1930. "The cheering crowds in the Far East were shouting not for me but for the American motion picture, the American people and the world of make-believe."
Mary Pickford represented the American motion picture industry to millions for well over a decade. Pasted into the pages of scrapbook #21 is a magazine clipping from circa 1923 that questions the future of the movies without her. "Who will succeed Mary Pickford when she retires from the screen? The question is being asked frequently nowadays. We think we can answer it. Namely: no one."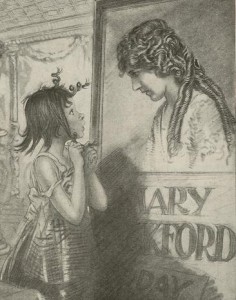 While celebrity worship has saturated our twenty-first-century culture, no one truly has succeeded in becoming known globally on the same level as Mary in her day. She seems to have been as revered in China or India or Russia as she was in North America. Even with the aid of Instagram, how many Hollywood stars can claim the same today?
Academy Scrapbook #21 can be seen in its entirety here.
Sources
Sources include AMPAS Mary Pickford Scrapbook #21, AMPAS Mary Pickford Scrapbook #10, Popular Science January 1920, The Aesthetics of Shadow: Lighting and Japanese Cinema by Daisuke Miyao, the Los Angeles Times January 24, 1915, and Forbes.com