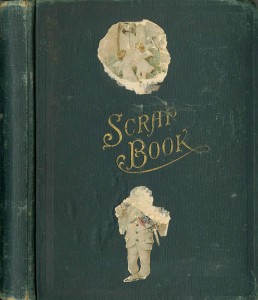 Possibly the rarest of all the scrapbooks in the MPF collection is this book of original newspaper reviews of a young Mary Pickford's stage performances dating back to 1903. If anyone believes Pickford's stardom and success in motion pictures was luck or a fluke, these clippings disprove that theory in no uncertain terms.
Back when Mary was still Gladys Smith of Toronto, she, her mother Charlotte and younger siblings Jack and Lottie, took to the stage as a way to earn money after father John Smith died. Early play reviews comment on "the whole darn family—of Smiths," but soon the critics began to praise one Smith over the others.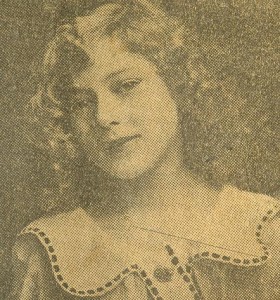 When the family performed in The Fatal Wedding at Myers Grand theatre in Janesville, Wisconsin on August 25th, 1903, Charlotte Smith was complimented with the rest of the cast as taking her part "very well," but the standout was 11-year-old Gladys. "Little Gladys Smith as Jessie, the little mother, was really fine and it is wonderful that one so young can remember so much and carry it out so well," the reviewer wrote. "She will someday make a polished actress and is deserving of great credit for her work."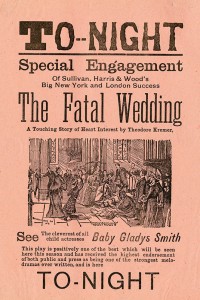 Soon, posters and handbills for The Fatal Wedding began touting "BABY GLADYS MARIE SMITH, who is recognized as the cleverest child actress on the stage today," and headlines such as "Child's Clever Acting," "Little Girl Made a Hit" and "Baby Actress is a Wonder" started to appear in local theatre notices. Wisconsin's Evening Telegram went so far as to claim, "As a child actress her superior has never been seen in this city." These original advertising materials and play reviews document a young actress as she rose to prominence and serve to illustrate Pickford's 1953 statement: "I never had a real childhood. What I had I lived out on the stage."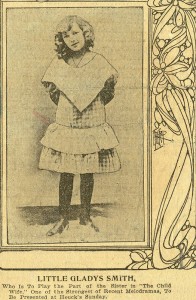 What may be the first ever published interview with Mary Pickford was printed in the Paris Morning Gazette (Paris, Illinois) on October 31st, 1903. The interviewer commented on Gladys' frank manner of speaking "without hesitation" and was asked how a young girl could memorize so much text. "I really do not remember how I first began to learn my lines," she replied. "My favorite method of doing so is to play casino or solitaire while my mother reads them to me. I then repeat them and continue doing so until I have them perfect. This is not hard work and I would rather do it than play." Always honest about her lack of formal education, Gladys went on to say, "I could not read when I was six years old, but it was comparatively easy for me to remember words that I had never heard before."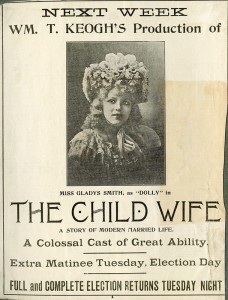 Next up for the Smiths were roles in Wedded But No Wife and In Convict Stripes, and Gladys was noted as an "audience favorite" in both plays. By 1904, "Baby Gladys" had become a strikingly pretty twelve-year-old, and was next billed as "Miss Gladys Smith" for her starring role in the play The Child Wife. Three years prior to her Broadway debut in David Belasco's The Warrens of Virginia – and five years before she appeared in motion pictures – critics around the country were already commenting on the mature youngster's ability to "win the heart of the audience." One reviewer added, "She is really an actress of promise." That promise would be fulfilled when Gladys became Mary Pickford and began winning hearts on a much larger scale.
The final clipping in this scrapbook is a review of Mary's 1914 film Such a Little Queen, a performance that is now lost forever. "Someday somebody is going to write something about Mary Pickford that really does her justice," the Morning Telegraph critic wrote. "But, since Shakespeare has been dead three hundred years, two months, one week and two ticks, I don't know who is going to do it."