Considering the fact that Mary Pickford received an estimated 500 letters a day during the teens and twenties, she clearly had many fans worldwide. One of her biggest and most loyal devotees, however, must have been Janet Esme Vernon of Buckinghamshire, England. Esme, as she signed her letters, created at least two scrapbooks filled with hand-colored and decorated clippings of Mary and Douglas Fairbanks (another can be seen here).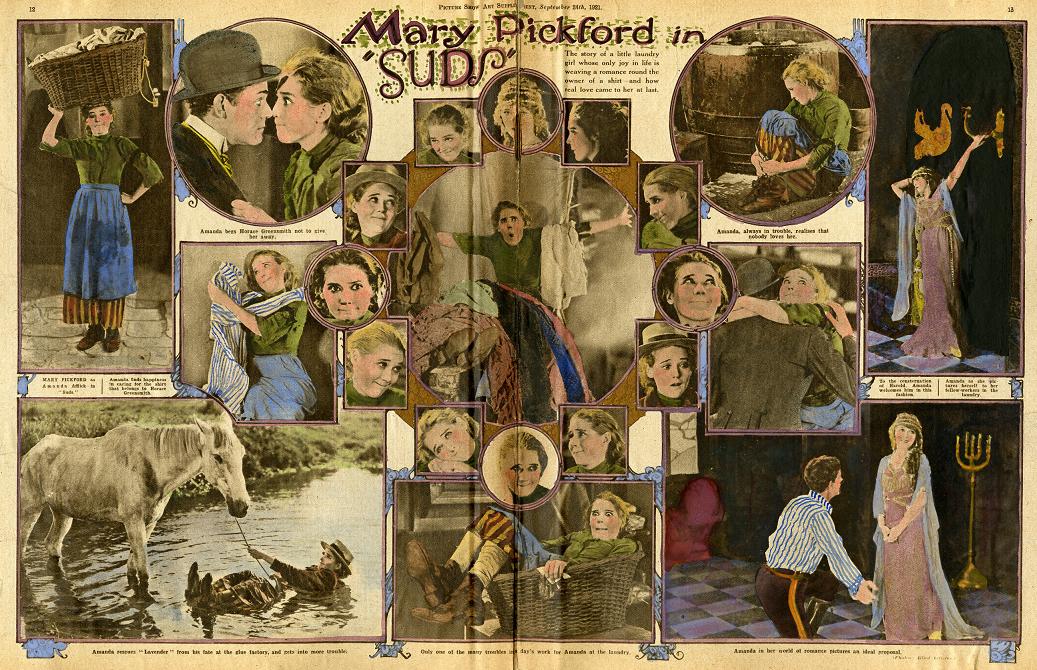 The Mary Pickford Foundation's Scrapbook #4 was made by Miss Vernon in 1921-22, when she was sixteen years old, and is brimming with hand-tinted images and Esme's uniquely stylized cursive handwriting. She had been admiring Mary and Doug for years from across the Atlantic, and finally got her chance to see them up close when they came to England for a second visit (after their honeymoon trip in 1920) in the fall of 1921. She not only saw them, but experienced a fan's dream come true by meeting them both. The scrapbook she made documents Mary and Doug's trip from the perspective of the U.K. press with extensive news clippings, and also records their visit from her perspective—through the honest eyes of a young fan, unfiltered by the media.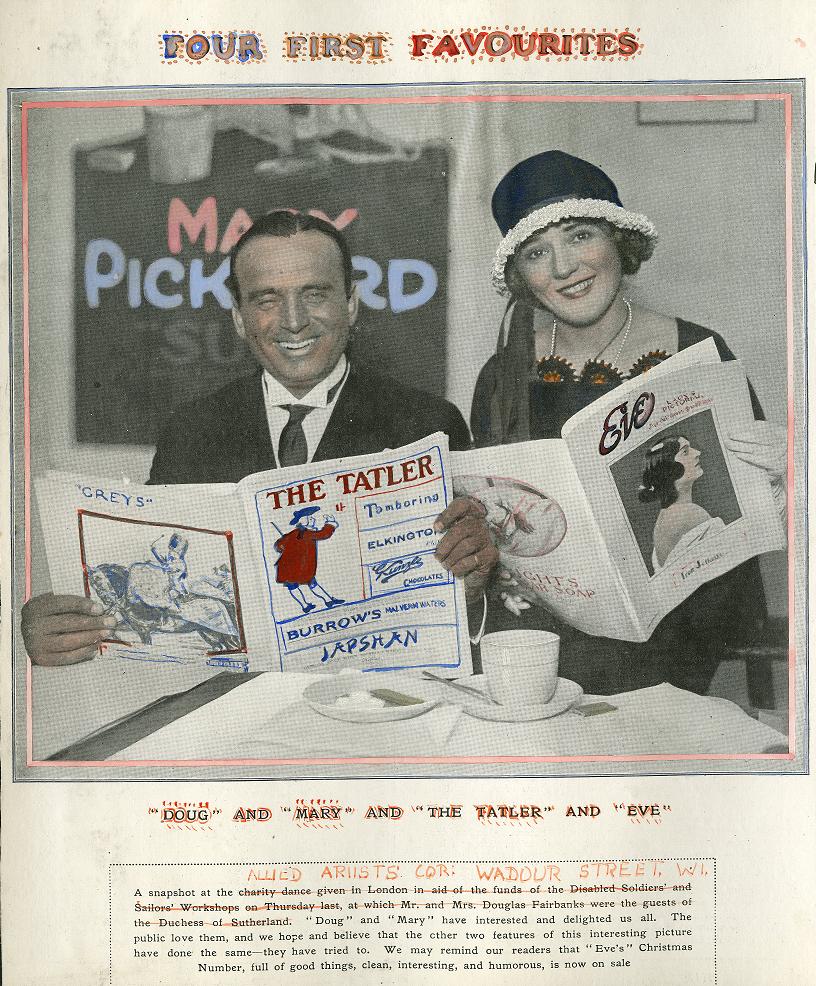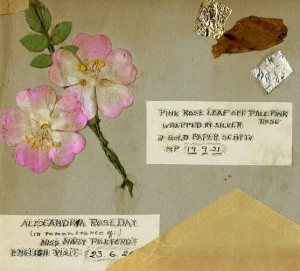 When the famous couple arrived in London, Esme sent Mary pink roses (one petal is preserved in the scrapbook) and a letter explaining that she was unable to greet her at Victoria Station because her parents would not allow her in London after dark by herself. "I heard a rumour that you thought of producing pictures in England six months of the year," she wrote. "I do hope it will come true. I am sure England has great possibilities as a future film centre." Esme continued to encourage Mary to film in England, suggesting the "newly completed film studio at Beaconsfield" as a possible inducement.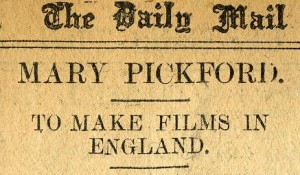 The highlight of the scrapbook is the young fan's handwritten account of meeting Mary and Doug, which she describes as "one of the greatest wishes in my life." Employing every tactic to see her idols—from following Mary's mother down the street to posing as a journalist with a scheduled appointment—Esme finally persuaded a sympathetic telephone operator to call and announce her to the Fairbankses' suite at the Ritz. In the early days of celebrity worship, Esme Vernon seems to have set the standard for ingenuous persistence and devotion. Forty years before Beatlemania, this kind of fanaticism was new to the world, and especially to England. As Cari Beauchamp notes in her book Without Lying Down, when Mary and Doug arrived abroad, "there had never before been such a frenzied response from a nation renowned for its reserve, and The Times of London called it 'appalling.'"
Appalling or not, Esme was determined to meet Pickford and Fairbanks and she succeeded, despite the crowds of "thousands and thousands" that Mary recalled swarming the hotel. She waited for hours in an anteroom with Miss Shepherd (Pickford's personal secretary) while the phone rang incessantly and other visitors came and went, until finally Douglas Fairbanks appeared. "He was slighter built than I thought he would be," she wrote, "but otherwise he might have just walked out of one of his films." She also noted his "soft tenor speaking voice" with a "decided American accent," and remarked that he "kept on saying 'sure.'" Esme jumped up, introduced herself and inquired if she might meet his wife. After hesitating, Doug murmured "I think you might," and went back into the suite where, according to Miss Shepherd, Mary was sleeping.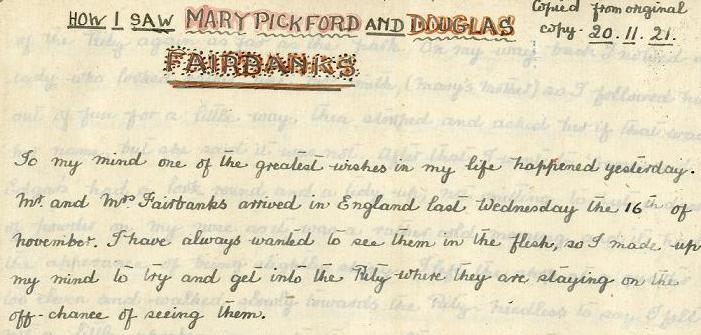 Eventually, Mary Pickford emerged from the suite and was introduced to the awestruck girl, saying "'I'm very pleased to meet you,' or something to that effect." In the silent days when audiences could not hear movie stars talk, their speaking voice was often the element that fans were most curious about. Esme was no exception, as she penned an entire paragraph about Mary's voice, calling it "well-modulated," "neither high nor low" and "decidedly girlish." "It did not sound American at all and had little if any accent," she wrote, "but there was something which I had never heard in a voice before, and that which I cannot possibly describe, only saying that it was Mary's voice, a thing out of the ordinary."

In her handwritten memoir, Esme admits to being "dazzled" by Mary's appearance. "She absolutely radiated beauty as she stood there in a simple black frock looking very slender and fragile, although not by any means thin," she wrote. "She looked at me with her great eyes which I thought were very dark blue or hazel, but what struck me most were her great, curling, thick black eyelashes." Esme also notes Mary's "sweet" but distracted manner, her fair hair and her perfect ivory complexion, though she noticed signs of exhaustion. "My candid impression of Mary was that she was physically and mentally tired out … I think the strenuous society life is a little too much for her."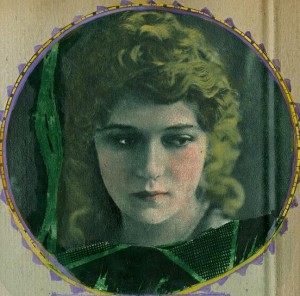 As world-famous as Mary and Doug were in 1921, in those days one resourceful teenager could not only correspond with the world's biggest stars, but actually meet them. Today, when A-list celebrities are kept from the public by an impenetrable wall of bodyguards or police, Esme's feat seems all the more incredible. Her lovingly handmade scrapbooks record the birth of fandom, a twentieth-century phenomenon that has now grown into a thriving institution.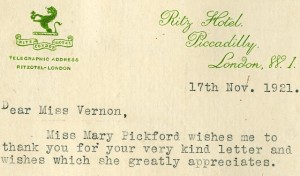 Scrapbook #4 also contains Esme's program from The Three Musketeers at the Royal Opera House at London's Covent Garden, and a thank-you note typed by Miss Shepherd on Ritz Hotel stationery. A few years later in 1925, Esme Vernon received a thank-you note from Mary herself, who remembered her as "always thoughtful." Though Mary never did shoot a film in England, she produced an English drama (starring as a character named Vernon, coincidentally) not long after her second U.K. visit. When she made Dorothy Vernon of Haddon Hall, Mary had the Derbyshire manor house carefully recreated on the Pickford-Fairbanks studio lot in Hollywood, California.
Scrapbook #4 can be seen in its entirety here.
Sources
Ancestry.com
Beauchamp, Cari. Without Lying Down: Frances Marion and the Powerful Women of Early Hollywood. Berkeley and Los Angeles: University of California Press, 1997.
Mary Pickford Foundation Scrapbook #4
Pickford, Mary. Sunshine and Shadow. New York: Doubleday, 1955.