Announcements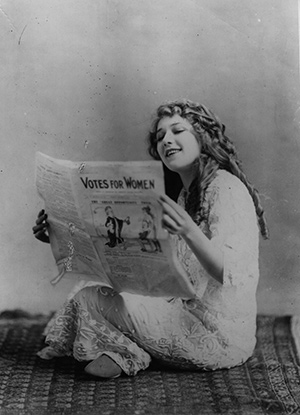 Film historian, producer, archivist and author Jeffrey Vance is currently examining and enhancing the catalogued records of the Mary Pickford Foundation holdings on deposit at the UCLA Film & Television Archive. Mr. Vance will make a definitive and complete inventory for the Foundation, inspecting film elements to determine physical condition, editions, versions, sources and derivatives. Mr. Vance will identify the earliest preservation material available for each title and offer recommendations to the Foundation.
Mr. Vance began his career as an archivist for M-G-M/United Artists and served the same function for the Chaplin family's Roy Export S.A.S. and later for The Harold Lloyd Trust. As a producer, he packaged the "Harold Lloyd Classic Comedies" for Turner Classic Movies; as a filmmaker, he produced and directed the short subject "Rediscovering John Gilbert" (2010); and as a writer, he authored "Douglas Fairbanks" (UC Press/Academy of Motion Picture Arts and Sciences, 2008), "Chaplin: Genius of the Cinema" (Harry N. Abrams, 2003) and "Harold Lloyd: Master Comedian" (Harry N. Abrams, 2002).
Mary Pickford Foundation Preservation Bootcamp: Friday, March 1st, 2013
The Mary Pickford Foundation and film archivist Alan Boyd present an all-day seminar on film preservation. Students interested in the art and science of film preservation will be able to learn these skills hands-on with professionals in the field. Alan Boyd will teach all aspects of film preservation; students will be presented with all elements of film in all stages of decomposition and shrinkage, and will witness firsthand the complexities of film preservation at the Dodge College of Film and Media Arts.
Mary Pickford Foundation now has an official Facebook page.'Like' us to keep track of news, events, screenings and more.
We have also recently updated our website with two new original articles about Mary Pickford's first trip to California and her early days with Biograph by our resident scholar Cari Beauchamp.
Also, check out our one-of-a-kind personal Mary Pickford scrapbook, and our new searchable Filmography featuring rare clips from features Cinderella, Stella Maris, Heart o' the Hills, Tess of the Storm Country, Taming of the Shrew and Kiki, and early shorts Tender Hearts, The School Teacher and the Waif, So Near, Yet So Far and The Dream.
The Foundation is pleased to announce that we have begun filming on-camera interviews about Mary Pickford, her legacy, her personal history, her philanthropy, and her contributions to the film industry. Mary's talent and dedication will be discussed by such notable experts as:
Tino Balio: Film scholar and author of United Artists: The Company Built by the Stars, among other titles
Cari Beauchamp: Film historian and award-winning author of Without Lying Down: Frances Marion and the Powerful Women of Early Hollywood and Joseph Kennedy Presents: His Hollywood Years
Malcolm Boyd: Bestselling author, civil rights activist and close friend of Mary Pickford
Cecilia DeMille Presley: Granddaughter of Cecil B. DeMille
Randy Haberkamp: Managing Director of Academy of Motion Picture Arts & Sciences
Jan-Christopher Horak: Director of the UCLA Film & Television Archive
Betty Lasky: Daughter of film producer Jesse L. Lasky
Leonard Maltin: Film critic and author of Leonard Maltin's Classic Movie Guide
Henry Stotsenberg: Chairman and CEO of the Mary Pickford Foundation
Kevin Thomas: Film critic for the Los Angeles Times
Mark Vieira: Film expert and author of Sin in Soft Focus: Pre-Code Hollywood & Harlow in Hollywood and Greta Garbo: A Cinematic Legacy
Marc Wanamaker: Film historian
Joseph Yranski: Film historian
We will continue our on camera interviews in order to create a complete research archive for discovering information about Mary Pickford and the silent film era.
We plan to utilize these interviews in an in-depth documentary film study about Mary Pickford, her life, her legacy and her philanthropic endeavors.